oneColumn
Osprey Cove
Constructed in 1997, Osprey Cove has many of the same features as Osprey Landing in which residents share a room and their own private bath. Osprey Cove's three building community is home to 18 Resident Assistants able to provide support and safety for UNF students.
The large (12' x 32') rooms exit to an outdoor covered walkway and feature built-in closets, central heat and air conditioning and movable hardwood furnishings. Rooms also offer a vanity-sink and a small counter space in which students may add their own microwave and efficiency size refrigerator. Students must provide their own television and computer equipment to access, data and cable service.
Other features of the brick complex include a laundry room in each building. This building also has covered walkways on each floor and lounges on every level with televisions, cooking facilities and a second-story sun deck to provide space for community activities. This complex has triangular shaped courtyards with lush landscaping. Outdoor swings, tables, and benches also provide relaxation areas in the community.
Osprey Cove is the closest building to the Osprey Clubhouse. Students have only a short swoop to Osprey Commons as well. Osprey Cove is south of the Village Complex. Osprey Cove is located between Kernan Boulevard and the I-295 exit adjacent to St. Johns Town Center.
Floorplans
Double Room

Triple Room
Persons with disabilities who need additional assistance reading the floorplan, please contact the Housing and Residence Life office at (904) 620 - 4663.
Osprey Cove Rates
Fall 2023/Spring 2024 (per person/per semester)

| Room | Rate |
| --- | --- |
| Furnished Space Double Occupancy | $3,023 |
| Furnished Space Triple Occupancy | $2,606 |
| Furnished Space Private Occupancy | $5,160 |
Features
Two 48"(h) x 32.5"(w) windows*
Vanity area (31" high")*
Adjustable beds (rise up to 32")*
Moveable hardwood furniture
Luxury vinyl flooring
Large closets (59"w x 28"d x 67"h OR 66"w x 24"d x 67" h)*
Private bathroom with 28" x 57" tub (43 total square feet)*
Utilities are included in rent
High-Speed Wireless and Ethernet Internet Access
Lounge area on each floor
In-building laundry facility 
*These items are approximations as each room varies.
Procedures and Standards
Fire Alarm Procedures
During ALL Fire Alarms, all students and guests MUST leave the building immediately. Students are not to re-enter the building until instructed to do so by Housing and Residence Life staff or the University Police Department. Students and guests refusing to vacate or returning before they are told to do so by a University Official are subject to disciplinary action and/or a fine from the police.

Cove Residents should evacuate towards Parking Lot 11, the Clubhouse, or to the Village Basketball courts..
Cleaning Standards
Residents are to have their rooms thoroughly cleaned in accordance with the established cleaning standards. If a room is not cleaned to the outlined standards, all residents of the room may be held equally responsible for the charges associated with the extra cleaning. Failure to thoroughly clean the room to the specified standards will result in a minimum of $50 cleaning fee for each area (i.e. living area, bath area).
Clean all common areas of your room. These areas must be cleaned by the time the FIRST resident in your room checks-out. These areas must remain clean throughout the check-out period. Otherwise, your check-out may be delayed and/or result in cleaning charges.
Vacuum
The carpet in the room must be thoroughly vacuumed.
Bathroom Area
The bathtub must be clean, with all mold, mildew and hard water or soap scum stains removed. The tile walls are to be cleaned completely free of mildew, soap scum, and stains. The tiles are to be shiny with no residue remaining. The outer surface of the toilet bowl is to be cleaned, and the inside of the bowl is to be free from stains. The bathroom floor and baseboards are to be mopped and cleaned. The sink and counter of the vanity area are to be cleaned, with all hair, soap scum and stains removed. The mirror is to be cleaned with glass cleaner and is not to be cloudy. The interior and exterior of any medicine cabinets are to be cleaned.
Cleaning of Housing Furnishings
The interior and exterior of the desk, dresser, chairs and bed frame are to be cleaned and wiped dry so that dirt and dust are removed.
Cleaning of Walls, Window, and Door Surfaces
The baseboards in the room are to be wiped down. Walls are to be cleaned as to remove any tape, dirt, or marks. Spider webs are to be removed from ceiling areas. Room blinds, windows, and windowsills are to be cleaned. Both sides of the room door must be cleaned of all tape residue marks.
Removal of Trash and Garbage
All trash, personal belongings and garbage must be removed from the room.
*Persons with disabilities can request assistance reading the fire exit maps by contacting the Department of Housing and Residence Life at housing@unf.edu or by phone at 904 620-4663. 
Staff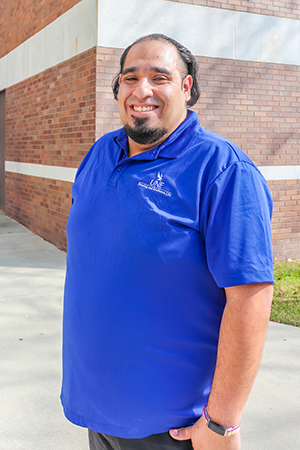 Miguel Sosa
Residence Life Coordinator
Osprey Cove
 
Email Miguel
Miguel is new to UNF Housing & Residence Life! He received his Bachelor of Science in Sports & Exercise Science from West Texas A&M University (WT) and his Master of Education in Higher Education Administration from the University of Texas at San Antonio (UTSA). Miguel's previous involvements include Residence Hall Association (RHA), Alpha Tau Omega Fraternity, Student Government, and Volunteer Services Department. At different points in his career, Miguel has worked for various non-profit organizations, such as the YMCA and Break Away. Miguel also volunteers with Toastmasters International. His hobbies include kickboxing, playing video games, as well as watching YouTube videos; he describes himself as a Marvel "nerd" and plans on doing deep dives into different superheroes and examine their leadership styles for a future podcast series.
Erika Prestipino
Assistant Residence Life Coordinator
Osprey Cove
 
Email Erika
Erika graduated with her Bachelor of Business Administration with minors marketing and leadership here at UNF. Erika is perusing her Masters' degree in Business Administration with a concentration in finance at UNF. She has worked previously as a Learning Community Assistant for two years at UNF. Erika has traveled to several different countries including Germany, Switzerland and Italy. Along with traveling she enjoys baking and crocheting.
Tour
The apartment in this video is an example of a student residence and may not align with all current Housing and Residence Life policies and procedures. Residents should consult the Resident Handbook for details on approved and unapproved items.
Contact
Osprey Clubhouse
(Welcome Desk)
(904) 620-4999