oneColumn
Guests and Interns
Welcome!
Thank you for your interest in guest/intern housing at UNF! Below you will find information relating to you (guests and interns). Please let us know if you have any additional questions.
Please submit the full agreement, via email, to housing@unf.edu or fax to (904) 620 - 4670. To complete a contract please fill out and submit the form. 
Guest/Intern Housing
Osprey Fountains opened to UNF students in August 2009. This five-story, 385,000-square-foot building provides housing for up to 980 guests. Osprey Fountains offers single and double-room (4-Bed and 6-Bed Suites) suites with two bathrooms and high-speed data access and cable in each bedroom.
Read more about Osprey Fountains. 
Osprey Fountains Floor Plans:
4-Bed Private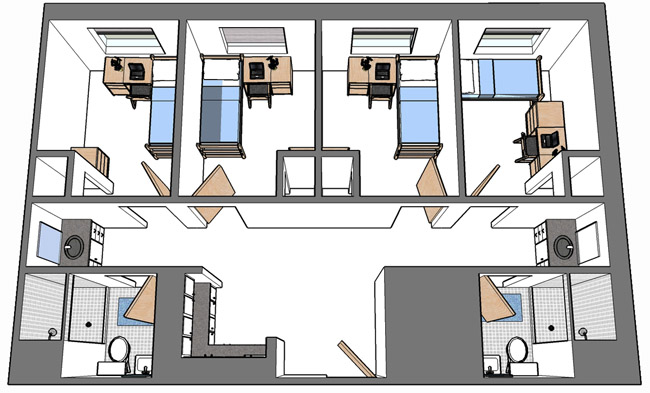 5-Bed Private/Double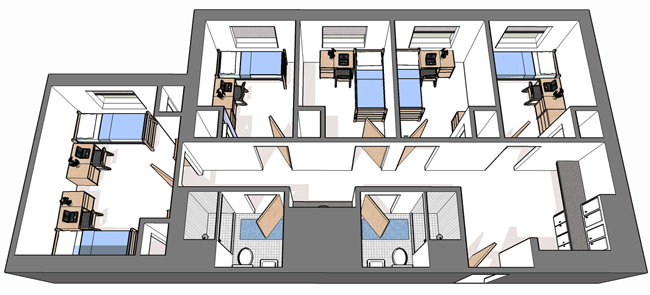 Persons with disabilities who need additional assistance reading the floor plan, please contact the main Housing and Residence Life office at (904) 620 - 4663.
Guest/Interns Rates
(Guest and Intern Rates)

| Room | Rate |
| --- | --- |
| 4/5 Bedroom Private | $42/night/person |
Contact
Housing and Residence Life
(904) 620-4663