Undergraduate Management Major
twoColumn twoLeft
The Management Department offers two primary majors: the Management Major and the Business Intelligence Major.   
Management Major
The Management Major provides you with the knowledge and skills to enter the workforce and become an effective manager. Whether you work for a global multinational organization or a local not-for-profit, you will have the skills to impact change and meet today's management challenges. 
In addition to gaining academic knowledge, you will also gain the skills required to be a successful business professional. These include: 
Learning to work successfully in a team

Building excellent communication

skills

Developing problem-solving

and analytical abilities

Understanding the roles and impacts of ethics and sustainability

Gaining leadership skills
These tangible skills will make you a strong candidate to enter the workforce. The average annual salary for a Management Major is about $60,000, according to figures provided by Payscale.com.  
Our own alumni who've gone through the Management Major Program agree the value of the major cannot be overestimated. 
"These experiential programs, accompanied by several noteworthy courses (Entrepreneurship; International Management) and professors prepared me in my journey to build an internationally recognized preparedness company, Summit Exercises and Training™ LLC," said John Duda, a Management major in the Coggin College of Business class of 2009.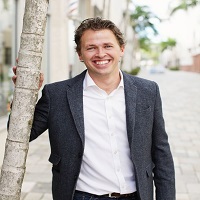 John Duda
"Obtaining an undergraduate degree in Business Management has given me the ability to explore multiple different career paths after graduating. The skills that you learn in the management courses are highly applicable to any industry, which gives you the flexibility to try different things and then focus on what you like." Angel Perez Vila, a Management Major in the Coggin College of Business class of 2021. Angel graduated with Summa Cum Laude (GPA 4.0) and continued pursuing MS. in Business Analytics while holding an internship at Crowley. 
As a management graduate, you could be hired for a wide variety of roles, including: 
General Management

 

Entrepreneurship/Small Business Ownership

 

Human Resources Management

 

Operations Management

 

Retail

 

Sales

 

Management Rotation Career Programs