oneColumn
Michael Dybala
Coordinator of Facilities Management
Pronouns: he, him, his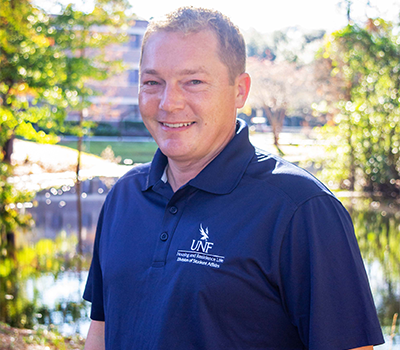 Michael began his career with the University of North Florida as the Coordinator of Facilities Management for Housing and Residence Life in December 2018. Originally from the Northeast, he attended the Community College of Rhode Island and obtained an AS Degree in Criminal Justice in June 1999. The following September he enlisted in the United States Navy and completed four years of active service onboard the guided missile cruiser USS Philippine Sea CG-58. Upon his discharge he used the GI Bill and enrolled here at the University of North Florida and graduated in May 2007 with a BS in Communications.
During his free time away from the office he enjoys playing soccer with the JaxSport, attending NASCAR races, traveling, landscaping his property and staying busy outdoors.
As the Coordinator of Facilities Management, Michael works in conjunction with the Custodial Supervisor, the Grounds Supervisor and the Maintenance Supervisor to direct the daily activities of 32 team members tasked with keeping all areas of Student Housing in the best possible condition. He also works side-by-side with a second Coordinator who assists him with various tasks and personnel while managing all the Work Order Requests, Supplies, Inventory, Access Control and Event Requests.