Nijmegen, Netherlands
twoColumn twoLeft
Nijmegen is known as the oldest city in the Netherlands. Nijmegen is rich in culture and history, where you can find everything ranging from Roman ruins, to WWII museums, to modern architecture. The city center is located just ten minutes from the Radboud campus. There are approximately 151,000 inhabitants of Nijmegen, which lies close to the German border and also lies on the banks of the River Waal. Major cities and airports around Europe are a short ride away, as are the famous lakes and canals that the Netherlands is known for. See a video about Nijmegen.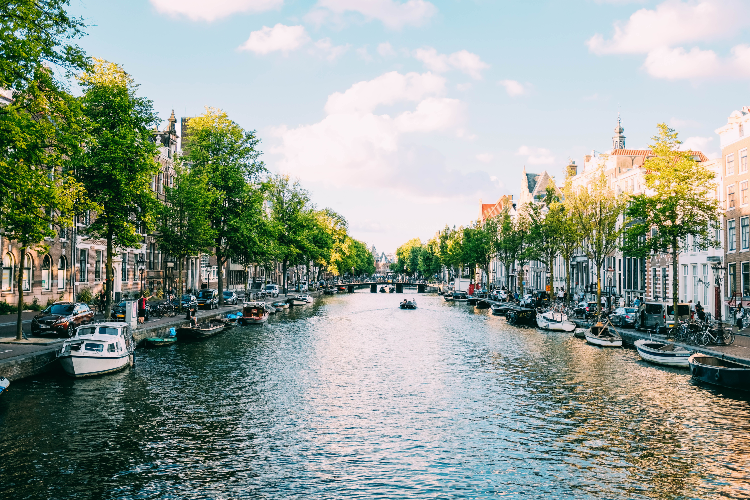 About Radboud University Nijmegen School of Management
Established in 1923, Radboud University in Nijmegen serves as an important establishment of premier education for 18,000 students in the Netherlands. RU prides itself on both its teaching and research capacities, in addition to its focus on internationalization. The university boasts seven different faculties, and the campus is known as the most beautiful in the Netherlands. RU has also been recognized by the European Commission for an impressive range of activities and quality education offered for students.
Radboud University Information Guide for International Students 
Contact
International Mobility Office of the Nijmegen School of Management
Postal Address: P.O. Box 9108, 6500 HK Nijmegen, The Netherlands
Visiting Address: Elinor Ostrom building N00.212, 6525 AJ Nijmegen
Tel: +31 (0) 24 36 15927
imo@fm.ru.nl
Radboud University Academics
Academic Calendar
The fall semester at RU ( or "semester 1") runs from early September until the end of January; the spring semester (or "semester 2") runs from February until mid-July. View RU's academic calendar. Students attending Semester 1 are able to arrange their courses at RU so that they can return to UNF for the spring semester. View Radboud University's academic calendar.
Courses
All courses on course list are taught in English
Credit & Grade Conversions
For details on grade conversions, see your study abroad advisor.  Credit conversions can be found on our Credit Conversion page.
Students are expected to take the equivalent of 12-15 UNF credits while abroad for fall or spring semesters.
Radboud University Application Process
Step 1:
Submit the following items directly to the Coggin Study Abroad Office (Building 10, Room 2125) not to the exchange partner or other UNF offices:
DEADLINE: March 15 for fall semester and September 15 for spring semester
Step 2:
Your study abroad advisor will sent your nomination to Radboud. Soon after, Radboud will send an email with instructions to apply online. Students must submit the following documents to their online application for Radboud:
Copy of valid passport
UNF transcripts
Learning Agreement
Passport sized photo
DEADLINE: May 23 for fall semester and November 23 for spring semester
Radboud University Housing & Cost
Housing
The International Office at RU can help assist students in arranging accommodation near campus for a semester or an academic year. Most students in Nijmegen live in student complexes and student houses, share an apartment, or rent a room in a house with a landlord. Each student has his/her own private room (furnished) and normally shares the kitchen and bathroom facilities. The rent for these rooms can run up to €450 per month or more. However, rental prices of most rooms are between €370 and €440 per month. Deposits (usually one month's rent) are typically required. Students are also welcom to arrange their own accommodation. More information about housing for exchange students.
Cost
UNF students participating in a Coggin semester exchange program will pay UNF tuition. Students will be responsible for all other expenses (i.e. flight, meals, housing, etc.). To see an estimated cost for one semester at Radboud, please see the estimated cost documents below.
Estimated Cost - Fall Semester 
Estimated Cost - Spring Semester 
Note: We recommend using Oanda as a currency converter when determining your budget.
Funding
Please view our Study Abroad Funding webpage for information about scholarships other funding opportunities.