twoColumn twoLeft
Facilities
Fine Arts Center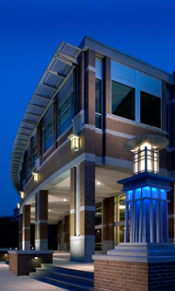 The Fine Arts Center is located on the  UNF Campus  (Building 45). It includes the Lazzara Performance Hall, which seats 1,300 guests for major events, an intimate 180-seat Recital Hall, four large rehearsal rooms, 44 individual practice rooms, and specially-designed teaching studios and classrooms.
In addition to providing supportive, cutting-edge resources for the practicing musician, the Center is often home to world-renowned visiting artists who can be seen in an impromptu 1-on-1 teaching opportunity as they could on the concert stage.
Lazzara Performance Hall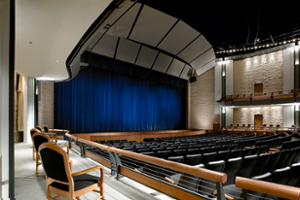 The 1,300-seat Lazzara Performance Hall, inside the Fine Arts Center, is named for Gasper and Irene Lazzara, prominent civic leaders who donated $1.25 million to the performance hall's funding. The fully-equipped theatre has hi-tech lighting, sound and acoustics and is the second largest stage in the area. It is the perfect venue. The lobby is equipped with concession areas, contemporary furnishings, modern lighting accents, and an intriguing sculpture installation entitled Aurora.
Recital Hall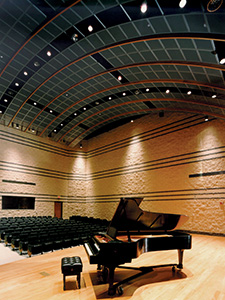 The 180-seat Recital Hall, inside the Fine Arts Center, is adjacent to the Lazzara Performance Hall. The Recital Hall is just the right size and place for an intimate performance. UNF students and faculty regularly perform in this venue. 
Andrew A. Robinson Jr. Theater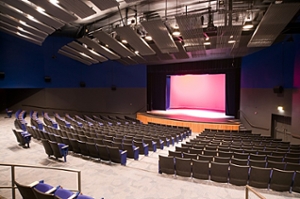 The 700-seat Robinson Theater, adjacent to the Fine Arts Center, features a unique design that can be adapted to seat 350 for smaller events. Recently renovated, it is the perfect mid-size venue for performances, lectures or presentations. The theater is equipped with a 35mm film projector. 
Digital Piano Lab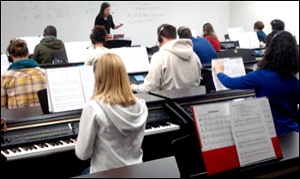 The School of Music's piano lab is one of the finest in the nation, and is the first piano lab in the country to acquire Yamaha's newest Clavinova digital pianos. Students play on one of twenty-four CVP-501 or CVP-503 pianos with 88 keys and graded hammer action to simulate the feel of an acoustic instrument. The instructor's instrument is a Yamaha Clavinova CVP-509 digital piano. Each instrument contains hundreds of orchestral sounds and rhythm tracks to enhance the experience. Headsets along with a Yamaha MLC-100 group controller allow instructors to communicate with individual students, pairs, groups, or the entire classroom at the push of a button.

The lab services courses in both class piano as well as piano pedagogy, and also includes Macintosh computers, a projector and large display screen, piano pedagogy seminar space, and the UNF Piano Pedagogy Library. 
MIDI Lab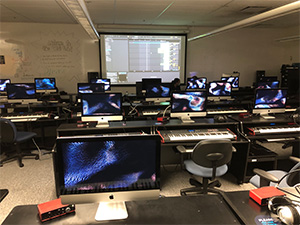 The School of Music's MIDI lab consists of 26 iMacs, each of which is equipped with Pro Tools, Logic Pro X, the Ableton Live Suite, Finale, MIDI keyboards, Focusrite Scarlett 2i2s, and headphones. Several Music Tech courses are held in this room, but students also have access to the space many evenings and weekends. Additionally, the student-led Music Tech Club meets in this space to further explore and share concepts, technologies, and personal compositions.