Northeast Florida Center for Community Initiatives (CCI)
twoColumn twoLeft
Director's Message
As the Director of the Northeast Florida Center for Community Initiatives (CCI), we thank you for your interest in our research organization. This web site offers an overview of what CCI is all about.

In 1994, three faculty members from the University of North Florida Department of Sociology, Anthropology and Criminal Justice joined forces to establish the Northeast Florida Center for Community Initiatives. The founding faculty included: Dr. Henry Camp, a Community Sociologist with extensive work in rural community development in Kansas; Dr. Charles E. Owens, a Criminologist with expertise in Social Psychology and the intersection of race and crime; and myself, a Sociologist specializing in Urban Sociology and Evaluation Research. I have served as Director of CCI since its official opening in 1994.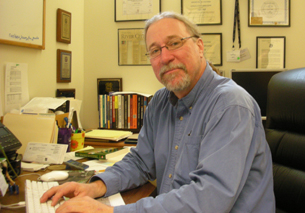 Since those early days, over $3 million has been obtained in applied contract research, involving a dozen faculty, with over 75 students (undergraduate and graduate) employed on research projects, and over 750 student volunteers participating.
Typically, research team members work closely with persons directly affected by the research to ensure community participation. Faculty associated with the Center also integrate research projects in classroom-based and community service learning activities that help to create a transformational learning process.

I look forward to another decade in which CCI can continue its mission, positively impacting the community.

Please explore our web site to obtain more information about CCI.
Sincerely,

Dr. Jeffry A. Will
Director, Northeast Center for Community Initiatives
CCI grants and projects offer a valuable opportunity for graduate students to participate in hands-on research opportunities, often in paid research assistant positions. Many of these projects provide opportunities for students to conduct independent research that can be used in MA theses and demonstration projects. In addition, students involved in these research activities are able to make valuable employment contacts for careers after graduation.