Department of Biology
twoColumn twoLeft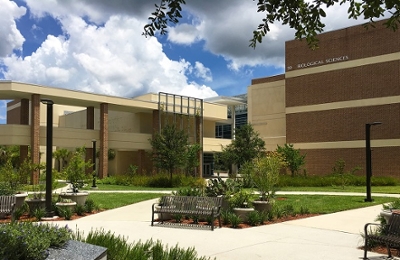 The Department of Biology is housed within the state-of-the-art $40.5 million Biological Sciences Building. The four-story, 116,500-square-foot building contains 16 modern teaching labs and 27 faculty research labs. Faculty research labs are outfitted for research in virology, ecology, genetics, physiology, and molecular cell biology. The building also includes three lecture halls, one large one with 192 seats, a multi-purpose classroom with 48 seats and a 96-seat classroom with an operable partition which allows the space to be divided into two classrooms when needed. There are 37 offices, office support spaces, and a conference room on each floor. Wireless Internet is available for all faculty and students throughout the building and in a semi-enclosed courtyard.
Features of the building also include a 6,000 gallon-capacity seawater system which supplies saltwater to selected teaching and research labs as well as the roof-top greenhouse. The greenhouse serves as an ideal location for culturing a diverse array of plant species used in research and teaching. With saltwater access, researchers can perform controlled experiments on mangroves, seagrasses and corals. Finally, the building contains a specialized necropsy facility where scientists can examine marine mammals, sharks and other animals.
Mission: The Department of Biology
The guiding principle of the University of North Florida, Department of Biology, is the search for understanding and knowledge through the scientific study of life and the dissemination of this information to students, the scientific community, and the general public. The Department of Biology faculty teach and conduct research in diverse fields of biology. The strength of the department lies in its broad based academic program, collaborative efforts of faculty, and its integration of undergraduates in all aspects of research. The Department of Biology educates the general student body of UNF in biological principles and seeks to develop an understanding of science, applied writing, mathematics, analytical reasoning and critical thinking skills in the context of biology. We seek to provide individualized attention at both the undergraduate and graduate levels to students interested in careers related to biological science. The department believes that the active involvement in scholarly pursuits of graduate and undergraduate students is the ultimate expression of teaching and learning.