Coastal and Marine Biology Flagship Program
twoColumn twoLeft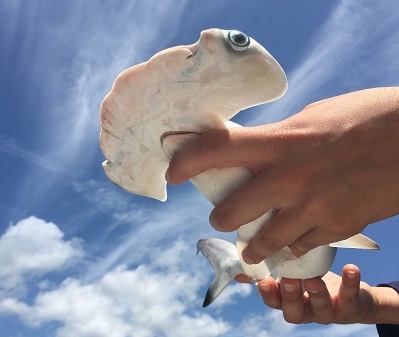 The Department of Biology's Coastal and Marine Biology Flagship Program, under the leadership of Dr. Jim Gelsleichter, is one of only 6 UNF academic programs selected for University Flagship status because of the research accomplishments of its faculty, educational opportunities for its students, and its contributions to public education and science-based policymaking about the Ocean. Our mission is to discover and educate others about coastal and marine life with the goal of preserving it for future generations.
Hands-on Learning in Coastal and Marine Biology
Set Your Course From College to Career
In addition to traditional coursework, undergraduate and graduate students focusing on Coastal and Marine Biology at UNF have many opportunities to "get their hands wet" and gain valuable hands-on experience in this field.
The UNF Coastal Community Stimulates Learning
From the moment they arrive at UNF, students interested in Coastal and Marine Biology are encouraged to join our growing Coastal Community and participate in the many events sponsored by the Coastal and Marine Biology Flagship Program that are geared towards enhancing student training and career development. These activities include Coastal Faculty Meet-and-Greets, where students can socialize with Coastal Faculty and learn more about their backgrounds and research interests; Coastal Science Café, where students, faculty members, and local science enthusiasts can discuss UNF research on important topics in Coastal and Marine Biology; and a number of Special Activities, which include Volunteer/Internship/Career Fairs on Coastal Biology, unique opportunities to view necropsies of stranded marine animals in our state-of-the-art Necropsy Facility, and guest presentations by accomplished and well-respect visiting scientists including the annual Brotman Family Public Lecture Series in Coastal and Marine Biology. We also encourage students to join the UNF Marine Biology Club, which holds regular meetings and events of interest to Coastal and Marine Biology enthusiasts and often serves as the "public face" of UNF's Coastal Community by participating in local fairs and festivals and other events.
Special Hands-on Field courses and Mentored Research Experiences Provide Individual Engagement
Imagine getting college credit for collecting marine animals ranging from invertebrates to sharks, conducting behavioral studies on dolphins, sampling coral larvae in the Florida Keys, or conducting state-of-the-art laboratory research on marine animal development, genetics, or health. There's no reason to imagine it because it's all possible at UNF! These opportunities include our long-running summer Advanced Shark Ecology course, in which students spend an entire summer participating in the UNF Shark Biology's Program federally-supported annual shark survey in northeast Florida and southeast Georgia waters, and our Field Studies in Marine Science course, which takes students from the estuaries and beaches of northeast Florida to the tropical waters of the Florida Keys and the coastline and open waters of Florida's Gulf coast over a 5-week period. New field courses on topics such as Dolphin Biology, Coral Reef Biology, and Invasive Species Biology are also under development. Students can also gain academic credit for conducting scientific research projects under the mentorship of Coastal and Marine Biology faculty by enrolling in our Directed Independent Study course. UNF also hosts a 10-week summer Research Experiences for Undergraduates (REU) Program in Coastal and Marine Biology that is supported by the National Science Foundation and provides early-stage (freshman-sophomore) college students with paid research-training experiences in Coastal and Marine Biology.
The opportunities for learning don't just end at the college property line! UNF Coastal & Marine Biology students have also received hands-on experience at a number of well-known marine science research and conservation facilities including the Guana-Tolomato-Matanzas National Estuarine Research Reserve, South-east Zoo Alliance for Reproduction and Conservation, Mote Marine Laboratory, Georgia Aquarium, Marineland, Clearwater Marine Aquarium, Jacksonville Zoo, Florida Fish & Wildlife Conservation Commission, Cape Eleuthera Institute, Harbor Branch Oceanographic Institution, and others. Students can gain academic credit for conducting internships with external agencies by enrolling in our Applied Internship in Biology course.