twoColumn twoLeft
UNF MedNexus Innovation Challenge
November 9, 2022 |  5:00pm  
The University of North Florida, along with the City of Palm Coast and Flagler County Schools, are proud to present the MedNexus Innovation Challenge, a team-based entrepreneurship competition showcasing to regional high school students tasked to pitch their solutions to Florida's evolving healthcare needs. 
The UNF MedNexus Innovation Challenge is sparking modernization of Florida's healthcare system and providing unique educational opportunities for high school students by offering the chance to receive scholarship prize money, mentoring by top university faculty, and the platform to share innovative solutions to real healthcare needs within Florida's First Coast. 
Meeting the demands of Florida's growing healthcare systems requires new, innovative services and technology focused solutions to undeserved healthcare areas. The selected 2022 MedNexus Innovation Challenge competition theme will be on improving sleep quality for young adults. 
Insufficient sleep has become a widespread issue particularly in high school students. Recent statistics from the U.S Centers for Disease Control and Prevention (CDC) outline that 72.7% of high school students get less than the recommended 8 to 10 hours of sleep needed for their age group. Sleep deprivation increases the likelihood teens will suffer a multitude of negative repercussions such as trouble concentrating, declined grades, drowsy-driving incidents, anxiety, depression, and thoughts of suicide.
Career-Building Experience

Ideal for any aspiring student exploring healthcare, technology, or entrepreneurship career paths, students will gain a collaborative experience with a UNF faculty members and other business professionals.

Develop Lifelong Skills

Become healthcare entrepreneurial problem-solvers, while developing your leadership, teamwork, and communication skills!

Prizes

1st Place: $1,000 scholarship prize money per student

2nd Place: $750 scholarship prize money per student

Voters Choice Award: $1,000 to the team

Schedule

September 7 Applications Open

October 9      Applications Close

October 10 Pitch competition teams announced

October 12 - Nov 2 Meetings with UNF Faculty and business professionals 

November 9 MedNexus Innovation Challenge

 
This year we are happy to announce that all participating Mednexus Innovation Challenge team members will receive a Fit-Bit watch!  Additionally, the following awards and prize money will be decided on Pitch Competition night: 
1st place winner - $1000 scholarship prize money per team member 
2nd place winner - $750 scholarship prize money per team member 
Voters Choice Award - $1,000 to the team 
2021 MEDNEXUS INNOVATION CHALLENGE WINNERS
1st Place

Doc Talk 

Enhancing soft skills in Healthcare

Chloe Kaczmarek, Natalie Quintanilla, and Madison Bianco

An app that allows students or professionals to practice the necessary soft skills required for their healthcare specialty. App features include: mentor communication, practice system, quizzes, and automated voice responses.

2nd Place

Holodrone

Advancing Telemedicine

Lizelle Pear, Roymara Louissaint, Christina Nguyen, Jared Foley, and Destiny Ruiz

A holographic technology software for existing medical drones. When a medical drone arrives with supplies in emergency situations, the Holodrone software allows the recipient to press a button which projects a three-dimensional image and video of a professional explaining how to use the equipment. 

3rd Place

Luna Care

Advancing Telemedicine

Ryan Flack, Ashlea Stanley, Helen Do, Ayushi Elhence, and Alyssa Buckingham

A platform that improves virtual patient-physician interactions and encourages diverse patient populations by allowing users to explore health care specialists based on wants and needs. Users can be matches by a variety of criteria such as race, insurance, language, and medical history, reviews, etc.
SPONSORS & PARTNERS
QUESTIONS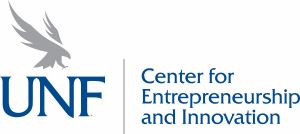 Kara Barber
Assistant Director, Center for Entrepreneurship & Innovation 
Email: kara.barber@unf.edu
CEI Emaill:  cei@unf.edu