oneColumn
UNF hosts top local business leaders at Employer Summit
August 24, 2023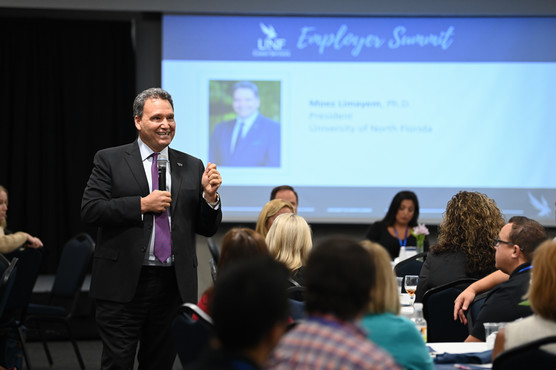 The University of North Florida hosted more than 60 of its top employer partners in the greater Jacksonville area for the second annual UNF Employer Summit on Aug. 2. The event brought together the most influential local companies, nonprofits, organizations and agencies to shape and strengthen opportunities for UNF students and collaborate on meeting the talent needs in the region. 
UNF President Moez Limayem delivered a welcoming keynote address expressing gratitude to UNF's local business partners, sharing his vision for the University's future, the new strategic plan and enrollment growth goals. He confirmed UNF's commitment to be the leading talent developer producing the best future leaders who will fuel Florida's economic growth.  
Local industry leaders from Haskell, The Energy Authority, Dun & Bradstreet, SMT (SportsMEDIA Technology) Jacksonville, Fidelity and Crowley hosted panel discussions about creating successful internship programs and strategic recruitment plans. JAXUSA and Coggin Graduate & Executive Programs presented workshops focused on the regional economy. UNF Career Services organized the event and presented the employer impact award to SMT Jacksonville, the Excellence in Internships Award to Haskell and the Emerging Employer Star award to Dun & Bradstreet.