oneColumn
Osprey Hall
Osprey Hall, a three-story, lakeside, traditional college residence hall, opened in Fall 1989. Students wishing to have a more traditional housing experience, choose to live in Osprey Hall because of the opportunities it provides them to meet, study and socialize with other residents.
This housing option is a limited-access building with freedom of cooking and upkeep of kitchen and bathrooms. Rooms provide 180 square feet of carpeted living space and feature large windows overlooking lakefront and wooded scenery. Osprey Hall also offers a laundry facility where students can wash and dry their own clothes.
Students must provide their own television and computer equipment to access data and cable services. Osprey Hall also provides a lounge area on each floor and wing. Each lounge comes with a television where students can socialize while enjoying a movie or television show. Osprey Hall residents are encouraged to purchase one of the University's meal plan options provided next door at the Osprey Cafe through UNF Dining Services.
Ultimately, Osprey Hall offers students a tight knit community that is welcoming to all people from different backgrounds. With Osprey Hall being our more traditional and smallest residential area, it easily creates friendships and allows for relationship building.
Floorplans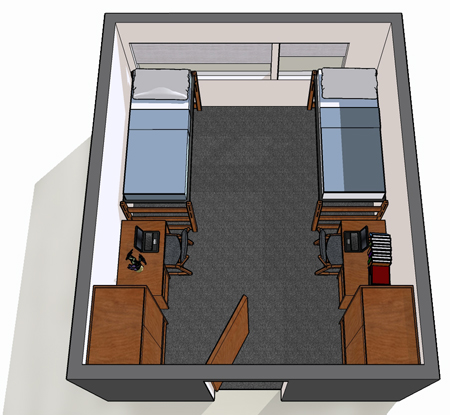 Persons with disabilities who need additional assistance reading the floor plan, please contact the main UNF Housing and Residence Life office at (904) 620 - 4663.
Osprey Hall Rates
Fall 2022/Spring 2023 (per person/per semester)

| Room | Rate |
| --- | --- |
| Furnished Space Double Occupancy | $2,250 |
| Furnished Space Private Occupancy | $3,450 |
Fall 2023/Spring 2024 (per person/per semester)

| Room | Rate |
| --- | --- |
| Furnished Space Double Occupancy | $2,346 |
| Furnished Space Private Occupancy | $3,597 |
Features
Two 48"(h) x 32.5"(w) windows*
Adjustable beds (rise up to 32")*
Moveable Hardwood Furniture
Utilities are included in rent
High-Speed Wireless and Ethernet Internet Access
Lounge Area on Each Floor
In-Building Laundry Facility 
Shared Lounge space and Bathrooms
Rooms are approximately 14.5 x 12 ft (about 174 sq ft per room)
*These are approximations as each room varies.
Procedures and Standards
Fire Alarm Procedures
During ALL Fire Alarms, all students and guests MUST leave the building immediately. Students are not to re-enter the building until instructed to do so by Housing and Residence Life staff or the University Police Department. Students and guests refusing to vacate or returning before they are told to do so by a University Official are subject to disciplinary action and/or a fine from the police.
Osprey Hall Residents should evacuate and regroup in either Parking Lot 10 or towards the Pavilion/Candy Cane Lake.
Cleaning Standards
Residents are to have their rooms thoroughly cleaned in accordance with the established cleaning standards. If a room is not cleaned to the outlined standards, all residents of the room may be held equally responsible for the charges associated with the extra cleaning. Failure to thoroughly clean the room to the specified standards will result in a minimum of $50 cleaning fee for each area (i.e. living area, bath area).
Clean all common areas of your room. These areas must be cleaned by the time the FIRST resident in your room checks-out. These areas must remain clean throughout the check-out period. Otherwise, your check-out may be delayed and/or result in cleaning charges.
Vacuum
The carpet in the room must be thoroughly vacuumed.
Cleaning of Housing Furnishings
The interior and exterior of the desk, dresser, chairs and bed frame are to be cleaned and wiped dry so that dirt and dust are removed.
Cleaning of Walls, Window, and Door Surfaces
The baseboards in the room are to be wiped down. Walls are to be cleaned as to remove any tape, dirt, or marks. Spider webs are to be removed from ceiling areas. Room blinds, windows, and windowsills are to be cleaned. Both sides of the room door must be cleaned of all tape residue marks.
Removal of Trash and Garbage
All trash, personal belongings and garbage must be removed from the room.
*Persons with disabilities can request assistance reading the fire exit maps by contacting the Department of Housing and Residence Life at housing@unf.edu or by phone at 904 620-4663. 
Staff
Ezra Imes

Residence Life Coordinator
Osprey Hall

Email Ezra
Ezra graduated from the University of Florida with dual degrees in Spanish and International Studies, with a regional concentration in African Studies. Prior to arriving at UNF, Ezra has worked as a Resident Coordinator in Yellowstone National Park, a Spanish teacher in Gainesville, FL, and, once, as an upscale chocolate consultant. Ezra loves to travel, and spent three semesters abroad during his undergraduate studies. In his free time, Ezra loves to read, cook, or do anything outdoors that involves the water.
Destiny Cole

Assistant Residence Life Coordinator
Osprey Hall

Email Destiny
Destiny received her Bachelor of Science in Psychology with minors in Human Resources, American Sign Language, and Leadership from UNF. Destiny will be pursuing her Master's degree in Management. Some of Destiny's previous experiences include working with the City of Jacksonville's Employee Services team, being a Shift Supervisor for Starbucks, a Distance Learning Coach for UNF Graduate courses and an LCA/RA for UNF Housing. Destiny has studied abroad to Austria, Czech Republic, Germany, and Peru.
Tour
The apartment in this video is an example of a student residence and may not align with all current Housing and Residence Life policies and procedures. Residents should consult the Resident Handbook for details on approved and unapproved items.
Contact
Osprey Clubhouse
(Welcome Desk)
(904) 620-4999