oneColumn
Messages from the Dean
A Message from the Dean, Dr. Richard Buttimer
January 27
2023 is shaping up to be a promising year!
The University of North Florida Coggin College of Business ended 2022 with multiple new additions to our faculty. Now I have the pleasure of announcing a new addition to our faculty roster who is one of the foremost authorities in transportation and logistics. Dr. Herbert Kotzab comes to the Coggin College from the University of Bremen in Germany and joined our faculty at the beginning of 2023.

Dr. Kotzab's immediate responsibility is serving as Director of the Crowley Center for Transportation and Logistics at the Coggin College of Business as well as CSX Transportation Eminent Scholar in Transportation and Logistics. He takes over the helm of the Crowley Center from Dr. David Swanson, who has been serving as interim director. 
The Crowley Center was established in 2021 following a $2.5-million endowment from Crowley Maritime. The Center's mission is to be a world leader in research and education in the transportation, logistics and supply-chain industry.
Dr. Kotzab's Curriculum Vitae is extensive and impressive. His expertise includes strategic logistics and supply chain operations; digitalization in the supply chain; global supply chain management; marketing channels and strategic distribution management; retail marketing, retail logistics and efficient consumer response; service operations; and supply chain analysis and logistics audit.
Dr. Kotzab held several esteemed academic positions at multiple institutions throughout Europe and beyond in the past 25 years. His most recent post was as the Chair of Logistics Management at the University of Bremen, where he was also a professor in that discipline.
He also held several professorships and research positions at the Copenhagen Business School and was a research associate at the Vienna University of Economics and Business Administration in Austria. In addition, he was a visiting professor at other institutions ranging from Italy to Scotland to Malaysia to the United States to other locales.
Dr. Kotzab has received varied awards and recognitions and participated in research projects and industry engagement involving consultancy work. He was also active in editorial contributions to multiple academic and industry publications and journals.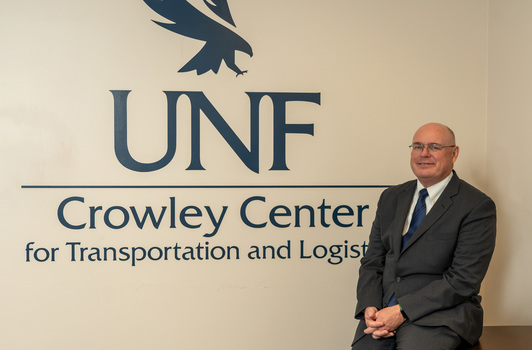 Dr. Kotzab will take the Crowley Center for Transportation and Logistics to the next level. I have full confidence and faith in Dr. Kotzab's ability to propel the Coggin College of Business into an exciting future while developing the most skilled and prepared graduates who will enter the transportation and logistics field. 
Best of luck in the New Year and I hope you have a productive and prosperous 2023.
Sincerely and respectfully,

Richard J. Buttimer Jr., Ph.D. 
Dean, Coggin College of Business 
University of North Florida
Learn more about Transportation and Logistics:
Learn more about the Crowley Center for Transportation and Logistics:
Past Updates - 2022
November 1

A Message from the Dean, Dr. Richard Buttimer

November 1

Dear Colleague, 


I'd like to take a moment to acknowledge some outstanding new personnel additions to the College. Frankly, in my view, the entire University of North Florida community benefits from these new members, though we here at the Coggin College of Business feel particularly fortunate.

As UNF celebrates our 50th anniversary this year, I'm proud to introduce four new faculty members joining us for the 2022-2023 academic year. They all bring a wealth of expertise and experience in business education and academic scholarship. Our new personnel additions are: 

Assistant Professor of Accounting & Finance

Dr. Gao joins us at the Coggin College of business following several years of academic excellence at the University of Akron.

Assistant Professor of Economics

Dr. Joshi comes to the College after earning his Ph.D. at the University of New Mexico. He has a stellar list of accomplishments and scholarships.

Assistant Professor of Marketing

Dr. Montford joins us after earning his Ph.D. in marketing at Florida State University. Dr. Montford brings a biography loaded with research projects.

Assistant Professor of Accounting & Finance

While Dr. Timmerman earned her Ph.D. from Florida Atlantic University in 2013, she's developed a distinguished career as an author in the fields of finance and financial planning, and is a certified financial planner. 

The experience and scholarly pursuits demonstrated by these new faculty members makes me marvel at the continued success of the Coggin College of Business. Welcome to our new professors.

Sincerely,

Richard J. Buttimer Jr., Ph.D.
Dean, Coggin College of Business
University of North Florida

September 22

A Message from the Dean, Dr. Richard Buttimer

September 22

Dear Colleague, 

Returning to the University of North Florida campus for fall semester this year proved the institution is more vibrant than ever. We have more incoming students now compared to any other year and your support plays no small part in our growth at UNF and the Coggin College of Business.  

The 2023 UNF fall enrollment has brought 3,100 incoming freshmen, its largest freshman class in university history. The Coggin College of Business has 523 freshmen joining the college. That's a 57% increase over 2021 and to put it in context, our incoming freshmen figure is up over the 2019 and 2018 freshmen numbers at the Coggin College before the COVID-19 outbreak when we had 311 and 317 incoming freshmen respectively.  

The astounding growth is not just limited to freshmen. The overall enrollment for Coggin College of Business is 3,077 students with 2,562 undergraduates and 515 graduate students. 

Those impressive additions to the Coggin College of Business come after the Princeton Review ranked our college as having one of the best graduate programs in the United States. It's the 15th consecutive year Princeton Review has placed the Coggin College of Business on that list.  

Meanwhile, all of our progress comes while the University is celebrating its 50th anniversary, which allows us all to reflect on what UNF has given to us and, more importantly, what we have given to the university. Our half-century mark was crowned by receiving the R2 Doctoral University High Research Activity designation from the Carnegie Classification of Institutions of Higher Learning. 

Adding to the excitement on campus, UNF has a new president. Dr. Moez Limayem officially took office as UNF's seventh president on August 1 and is fast at work connecting with various parts of our community.

You are a valuable part of our College family. We continue to build upon our solid foundation with the help of your contributions and I thank you for investing in the future of the Coggin College of Business.

  


With deep gratitude and best regards,

Richard J. Buttimer Jr., Ph.D. 
Dean, Coggin College of Business 
University of North Florida