State Authorization
oneColumn

The University of North Florida is required to disclose information about its institutional compliance with state laws and regulations for delivering distance education programs outside of Florida. This page provides both current and prospective students with:
Information about UNF's authority to operate in other states (also known as state authorization).
Information about the process to file a complaint.
Information about UNF's accreditation.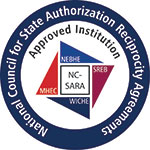 The University of North Florida is a participating institution in the National Council for State Authorization Reciprocity Agreements (NC-SARA) and the Florida State Authorization Reciprocity Agreement (FL-SARA).
NC-SARA is a voluntary, regional approach to state oversight of postsecondary distance education. NC-SARA allows institutions to provide online courses outside of their own state borders by seeking and maintaining state approvals via a streamlined process. To comply with NC-SARA requirements, UNF collects data regarding student location at the time of initial registration and when a student submits an online request to change his/her primary physical location.
As a participating NC-SARA institution, UNF is authorized to provide educational opportunities, including online classes and programs, continuing education opportunities, field trip experiences, and "experiential" activities to students located in 49 SARA member states, the District of Columbia, the U.S. Virgin Islands, and Puerto Rico.
Residents of California: California does not participate in the national State Authorization Reciprocity Agreement (SARA). The California Bureau of Private Postsecondary Education does not regulate out-of-state public institutions. Therefore, Bureau approval for UNF to offer educational activities in California is not required. Students located in California may participate in UNF's distance education offerings. As a resident of a non-SARA state, if you have a complaint about the administration of a UNF distance learning program, contact the California Bureau of Private Postsecondary Education .
Institutional Accreditation
The University of North Florida is accredited by the Southern Association of Colleges and Schools Commission on Colleges (SACSCOC) to award associate, baccalaureate, masters, specialist, and doctorate degrees. Questions about the accreditation of the University of North Florida may be directed in writing to the Southern Association of Colleges and Schools Commission on Colleges at 1866 Southern Lane, Decatur, Georgia 30033-4097, by calling (404) 679-4500, or by using information available on the SACSCOC's website (www.sacscoc.org).
Student Complaint Process
The University has a process for, and will make every attempt to resolve, student complaints within its academic and administrative departments at the program level. Visit the Student Complaints and Appeals webpage for information and procedures for resolving complaints.
Distance Education students from NC-SARA states, who have completed the internal institutional grievance process and the applicable state grievance process, may appeal non-instructional complaints to the FL-SARA Postsecondary Reciprocal Distance Education Coordinating (PRDEC) Council from the "FL-SARA Complaints" tab on the Student Complaints and Appeals webpage.
Additionally, the University maintains a Consumer Information disclosure page to provide consumer information to prospective and enrolled students and their families.
The University works to provide broad access to its online degree programs. While we monitor issues related to international authorization and licensure, it is the student's responsibility to understand current circumstances or special requirements surrounding whether an online degree will be recognized in a country other than the United States, how the collection of student data may be used in another country, and whether withholding taxes (in addition to the price of tuition) will apply. Some countries may not formally recognize foreign online degrees, which may have implications for those who later seek to enroll in other educational programs, or for those who seek employment with that country's government or other employers requiring specific credentials.
International students considering an academic program that leads to a professional license should first confirm with the appropriate professional licensing board in your country of residence or the country where you intend to work as to whether an online degree from UNF will be recognized when seeking licensure or certification.