About UNF Online
oneColumn
Our Mission
UNF Online is an Academic Affairs unit that provides leadership for the development and delivery of high-quality online learning experiences that meet the needs of learners and that extend access to degree programs in areas of strategic emphasis.

Online Program
Support
Provide support and guidance for departments developing or managing fully online degree programs.

Online Student
Support
Provide admission and retention support in the form of enrollment management including marketing and recruiting of prospective students for online degree programs and the development and coordination of student services for online learners.

Compliance and Stewardship
Develop and disseminate policies for distance learning, serve as the administrative unit for self-supporting college credit programs, coordinate State Authorization of distance education, and administer the distance learning fee.

Facilitation of Best Practices
Provide data and analysis for online learning efforts and support online course design quality review, reporting, and assessment.
Deb Miller
(she/her/hers)
Assistant Vice-President for Digital Learning and Innovation
deb.miller@unf.edu
(904) 620-1416
Dr. Miller came to UNF in 2001 from the Duval County public school system, where she served as a classroom and resource teacher for several years. She earned a doctorate in Educational Leadership and a Master of Education in Instructional Technology from UNF, and is an OLC certified Online Instructor. Her dissertation research focused on the influence of institutional and individual factors in faculty decisions to teach online. Deb enjoys gardening, hiking, and spending time with her family.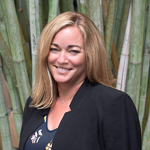 Erica Anga
Erica joined UNF Online in 2020 to help promote online enrollment growth and support student success. She has more than ten years of higher education experience working specifically with transfer, non-traditional, and online students. Erica earned a Bachelor of Arts from Western Michigan University and her Master of Arts in Conflict Management and Resolution from the University of North Carolina Wilmington. Erica enjoys spending time outdoors with her husband and doodle, frequenting the beach, and tent camping.
Kevin Hulen
Kevin came to UNF in 2012 from the University of Florida and has been involved in the design and development of online content for more than 20 years. He earned graduate degrees from UF in Biology and Education. Kevin focuses on the implementation of institutional initiatives associated with the impact of online learning and other analytics related to online course quality and review. He enjoys spending time with family, playing soccer, and surfing.
Student Success Team
From the moment you express interest in a UNF Online program through graduation, the UNF Student Success Team is ready to support you.
Administrative Team
The UNF Online Administration Team provides support in the form of budget management, program assistance, and coordination of resources.