RecWell Capital Projects
oneColumn
The mission of the department of Recreation and Wellness is to create an environment for the UNF community that inspires healthy lifestyle choices through valuable programs and services while supporting academic success.
S
spread across more than
320
acres of the campus
, RecWell
values the importance of quality facilities to support the needs and interests of our students.
Outdoor Pickleball Court
Scope: Adding pickleball lines to the outdoor Tennis Courts located behind the Student Wellness Complex.

Funding: $3.1K

Completion: This project is scheduled to be completed by Spring 2024
Student Wellness Complex Improvements
Scope: Dottie Dorion Fitness Center improvements include rubber flooring and carpet replacement and extension on the 2nd floor and thereplacement of outdated cardio and weight equipment.

Funding: $866K

Completion: This project is scheduled to be completed by Spring 2024
Eco Adventure New Facilities
These conceptual drawings for new Eco Adventure facilities would impactfully enhance program opportunities for our students. New facilities include: Eco Adventure offices, four program rooms with occupancy of 30 each, a large common area with a capacity of 50, restrooms, and increased storage. In coordination with these new facilities, current Gear Checkout facilities will be refurbished.
Cost estimated at $5 - 6 million
Outdoor Field Enhancements
Scope: South Field enhancements include removal of perimeter brush, refencing, relighting, new bleachers and pad, restroom facilities; North Field enhancements include a new storage facility.
Funding: $1.4 million from CITF allocations
Eco Adventure Enhancements
Completion: Fall 2022 semester
Scope: repairing and replacing several sections of boardwalk and the bridge to the island
Funding: $1 million from CITF allocations
Ribbon Cutting Ceremony in the news: WJCT News Article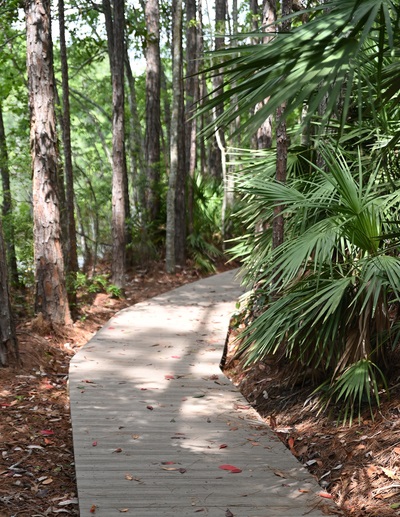 Sky Park: New Osprey Challenge Course Element at Eco Adventure
Completion: June 2022
Scope: installation of multi-level, individual challenge element at Eco Adventure
Total Cost: $115K
Practice Field & Track Enhancements
Completion: April 2022
Scope: installation of an artificial turf field and renovation of the 3-lane track.
Total Cost: $2 million
Competition Pool Complex & Renovated Tennis Courts
Completion: August 2021
Scope: The Competition Pool Complex is a new, outdoor pool adjacent to the Student Wellness Complex. The pool serves our campus community and Division 1 Women's Swimming Team. It is 25 yards by 50 meters and can be set for 9 long course or 10 short course competition lanes. In total, the pool fits 20 short course lanes. The facility includes restrooms, changing facilities, lifeguard offices, and the UNF Women's Swim Team offices, equipment storage and a separate pump room.
Total Cost: $8 million
Red Maple Boardwalk Replacement
Completion: Fall 2017
Scope: demolition and replacement of the 0.31 mile boardwalk trail.
Field House
Completion: 2015
Scope: 26,000 sq. ft. indoor court facility. It is home to the Competitive Sports program, where all indoor sports take place, as well as the hub for student informal-recreation play, including basketball, volleyball, indoor soccer, badminton, pickleball, and much more. Reservation and rental agreement required for outside groups.
Total Cost: $5.1 million
Student Wellness Complex
Completion: 2012
Scope: 27,000 sq. ft. fitness floor space and 1/8 mile track on the third floor circumnavigates the perimeter of the building, 34-ft indoor rock climbing wall, 3 group fitness studios and administrative offices.