oneColumn
A Home For Ozzie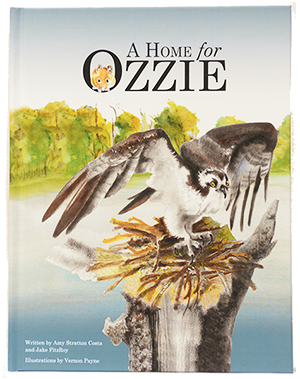 This book was inspired by two different goals:
Getting children excited to read by giving them their own book based on a place they will visit.
To give them a positive experience in nature at the Sawmill Slough Preserve on University of North Florida's campus.
Story
Our book is about an osprey that cannot find a home, and explores the campus's lake, forest, swamp and sandhill habitats looking for different places to live with other animals. Eventually he learns he must build his own home and gets help from a friend to do so. Along the way, students will read about animals native to the Jacksonville area with the scenes based on places along our nature trail on campus. Included in the book is a nature map.It features Ozzie and the 6 different characters representing their different habitats.
Their icons mark their different sections of trail, where the scenes are based on. The book's trail is about a 1 mile hike in all and our trail system is open every day of the year.

Product Details
Age Range: 5 - 8 years
Hardcover: 32 pages
Illustrations: done by hand in watercolor
ISBN 978-0-692-40915-2
Dimensions: 11" x 8.5"
Price: $19.95 plus tax
All book sales support the UNF Nature Trails.