Professional Staff
oneColumn
Erin Largo-Wight, Ph.D. — Director and Professor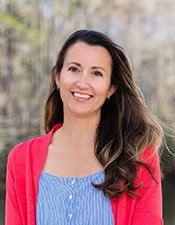 Dr. Erin Largo-Wight is a professor in the Department of Public Health and the Director of the Institute of Environmental Research and Education. Dr. Largo-Wight earned a B.S. from University of South Florida, M.S. from University of Delaware, and a Ph.D. from the University of Florida in Health and Human Performance with a minor in Psychology and graduate certificate in Environmental Education and Communication.
Dr. Largo-Wight brings years of leadership experience as the former director of a large academic program; over a decade of experience facilitating student and community partnerships to solve environmental and health issues in Jacksonville; interdisciplinary research, teaching, and world view; and the Health by Design: Nature and Health Laboratory and research. Dr. Largo-Wight studies the impact of nature on stress, health, and well-being. Past studies explored the impact of outdoor classrooms on children, nature in the workplace, clinical settings, and home, and outdoor exposure and health, for example. She also studies environmental health behaviors such as recycling, active commuting, gardening, and others. Erin is passionate about the health of the environment and connecting faculty, students, and community partners to find solutions.
Kelly Rhoden — Assistant Director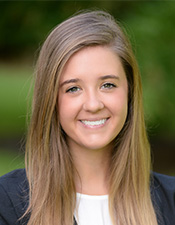 Kelly Rhoden serves as the assistant director for the Institute of Environmental Research and Education. Rhoden earned a Bachelor of Science in Health and a Master of Public Health with a concentration in Epidemiology from the University of North Florida.
Rhoden previously served as the coordinator of Student Engagement and Retention Programs within The Institute.  Her career path has also provided the opportunity to serve as the Alumni Event Coordinator in the University Development and Alumni Engagement office at the University of North Florida. She was a past participant in the Environmental Leadership Program, completing a project focused on environmentalism and health. In her spare time, she enjoys camping, hiking, gardening and learning more about natural environments.
Nicole Lowe — Office Manager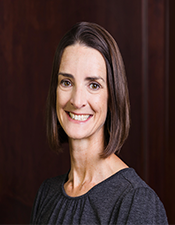 Nicole Lowe serves as the office manager for the Institute of Environmental Research and Education.  Lowe earned a Bachelor of Arts in Communications from Western Illinois University.  She continued her education post-graduation to obtain her teaching certification in middle school math.
Lowe has had a wealth of opportunities from the 2002 Winter Olympics to Director of a local non-profit before stepping into the classroom as a middle school math teacher.  Her organizational skills, attention to detail and desire to provide a quality interaction drive her success.  In her spare time, she is blessed to enjoy time with her family and the adventures that present themselves.