Color Palette
oneColumn
UNF's official color palette strongly and boldly represents the University of North Florida. Our Osprey Blue is used on everything we create and is an immediately recognizable brand element. UNF's official school colors are blue and gray. These colors are used to represent the University of North Florida on promotional items, printed materials, the website, social media, in digital marketing and everywhere that UNF has a presence.
While Osprey Blue should always be the majority color used in a design, minimal use of additional secondary and accent colors is allowed to provide some variety when needed.
NOTE: The different values associated with each brand color are dependent on the intended use.
PMS: This value is based on the Pantone Matching System and should only be used when a spot color is needed (limited use).
CMYK: For nearly all print work, use CMYK values for the most accurate brand color reproduction.
HEX: Hex values should be used when reproducing brand colors in a digital environment.
Osprey Gray
PMS COOL GRAY 6 C
C 36 M 29 Y 28 K 0
HEX A7A8A9
Osprey Blue
PMS 289 C
C 100 M 76 Y 10 K 65
HEX 0A233F
Secondary Colors
---
UNF offers a secondary color palette with colors that complement the primary colors in order to provide some flexibility in creativity. However, these colors are meant to be used in small amounts.
Note: UNF Aqua Blue (cyan) text is not to be used on white backgrounds in digital designs (web or social media) as it is not ADA compliant.
UNF Aqua Blue

PMS 306 C
C 81 M 4 Y 5 K 0
HEX 00B2E2

80%
60%
40%
20%
UNF Cool Gray Gradients

C 28 M 22 Y 22 K 0
HEX B9B9BA

80%
60%
40%
20%
Accent Colors
---
Recognizing that there may be a need for small pops of additional colors in design, an accent color palette was created. These colors are not recognizable identifiers of the University of North Florida and, therefore, should be used rarely and in moderation only.
UNF Legacy

PMS 288 C
C 100 M 79 Y 16 K 3
HEX 0E4C8C

80%
60%
40%
20%
UNF Marine

PMS 3135
C 100 M 23 Y 21 K 1
HEX 008EA9

80%
60%
40%
20%
UNF Sky

PMS 3135 C
C 52 M 28 Y 0 K 0
HEX 7BA2D5

80%
60%
40%
20%
UNF Leaf

PMS 368 C
C 59 M 2 Y 100 K 0
HEX 76BC43

80%
60%
40%
20%
UNF Sunshine

PMS 123 C
C 0 M 23 Y 91 K 0
HEX FFC62F

80%
60%
40%
20%
UNF Gold

PMS 4505 C
C 38 M 40 Y 86 K 11
HEX 9A8543

80%
60%
40%
20%
UNF Sand

PMS 4525 C
C 24 M 23 Y 56 K 0
HEX C6B783

80%
60%
40%
20%
UNF Sunset

PMS 7636 C
C 17 M 100 Y 64 K 5
HEX C41F4B

80%
60%
40%
20%
Using Color
---
Correct ways to use color: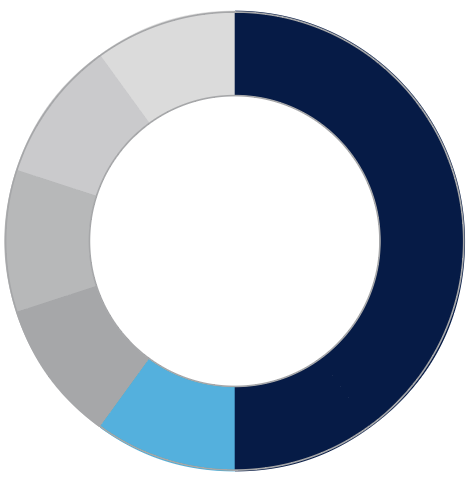 For formal materials, such as university ceremonies or presidential events, stick to neutrals and tints of UNF Blues to give your piece a more traditional feel.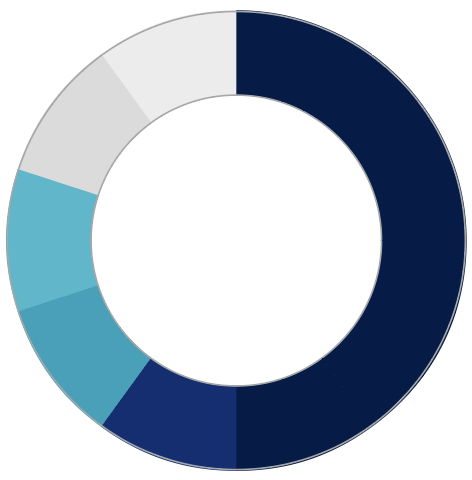 For more informal pieces, try limiting yourself to a only a few tints of the secondary or accent palette to allow the Osprey Blue within your piece to really stand out.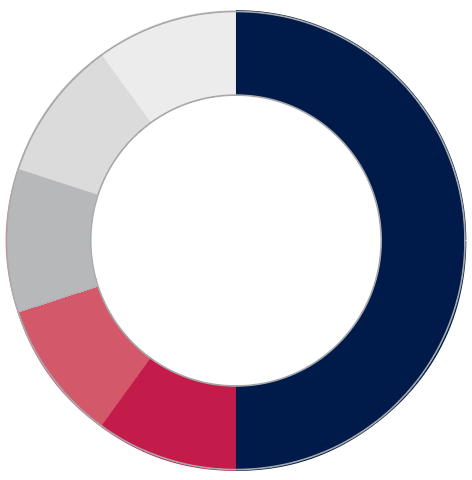 Customize your own color palette by combining the primary brand colors, Osprey Blue and Gray, with minimal use of an accent brand color or a range of its tints and shades.
Incorrect ways to use color: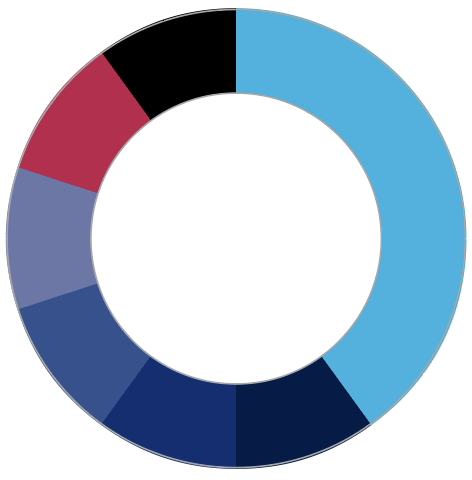 Do not use color palettes where secondary or accent colors overpower the primary brand colors.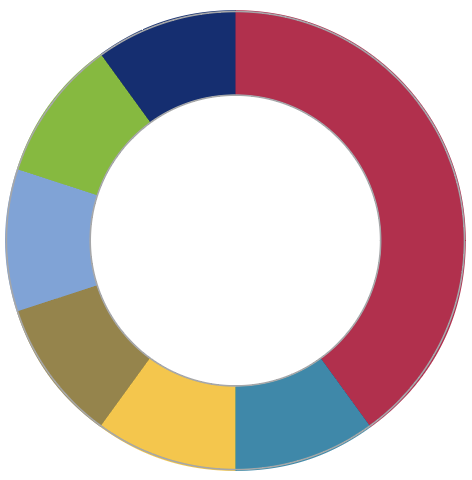 Do not use multiple accent colors within a piece under any circumstances.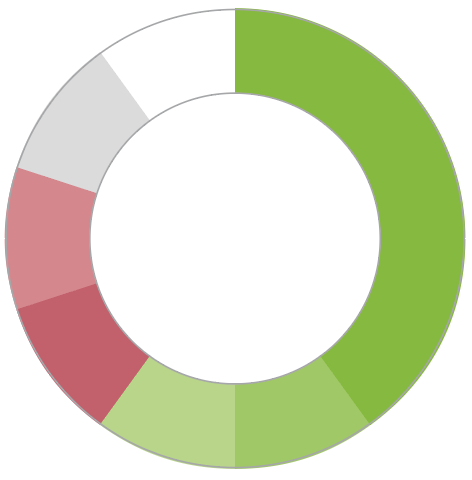 Do not use accent colors in formal pieces. Osprey Blue should be the dominant color.