Athletics Brand
oneColumn
Athletics branding shares the same colors as the University academic branding, but includes exclusive marks and fonts used only for Athletics.
The Athletics marks may be allowed in some cases for school spirit uses with approval from the Athletics Department.
The team logos for the Athletics Department are for use only by sanctioned teams and club sports.
For more information on Athletics brand standards, contact Athletics Marketing at (904) 620-5429 or k.parsons@unf.edu.
Primary Palette
Osprey Blue and Osprey Gray are the official colors for the University of North Florida Athletics. It is very important to match these colors faithfully when reproducing the athletics marks. It is preferred that all UNF athletics marks be used in the full color version whenever possible.
Support Colors
In addition to the primary palette, the UNF Athletics marks utilize white as an important support color.
Osprey Blue
PMS 289 C
C 100 M 76 Y 10 K 65
Osprey Gray
PMS Cool Gray 6 X
Osprey Bold
Osprey Bold is the custom font created exclusively for UNF Athletics and is featured in many of the marks. Osprey Bold is only available from the UNF Department of Athletics and may be used only with prior approval.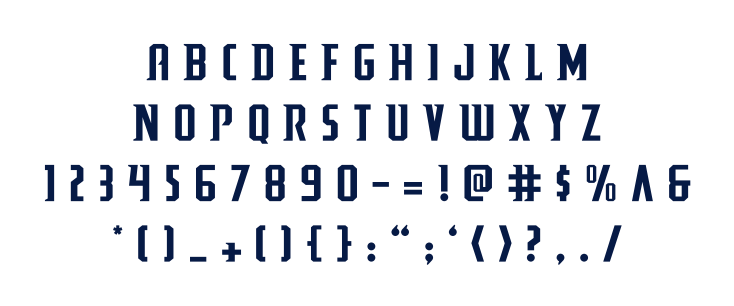 Bank Gothic
The Bank Gothic font family is used in the banners of many of the UNF Athletics logos. It is a clean, bold and contemporary font that is readily available.

Athletics Identifying Marks
---