oneColumn
myUNFID for Faculty and Staff
myUNFID is an application that provides assistance for students, faculty, and staff with logging into their UNF account.
Accessing the myUNFID Portal
Step 1: Log into myWings
Step 2: Locate the magnifying glass search icon in the upper left corner
Step 3: Enter "myUNFID" in the search and select the link under Employee records

 

 

This is where you can change your recovery options and manage an alias (secondary) e-mail address.
Managing an alias (secondary) e-mail address
Step 1: After logging into the myUNFID portal, select the email tab, then Alias in the menu column.



 

Step 2: View the current and available options for your email address.


Step 3: Your current primary email alias will be noted with a green and silhouetted circle.

To add a new alias select one of the options listed under available

To make an email your default email select the silhouetted circle next to that address.


Login Help Explained
When you select the login help link, you will be asked to enter your User (UNF ID) to begin.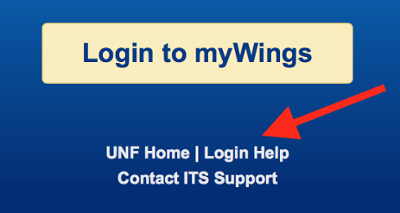 You will also need to verify you are not a robot. Once verification is complete select the "Next" button.
If you indicated that you know your UNF ID, you will be asked to provide it. You will then be prompted to select a verification method through email or text. A reset code will be send to your selected method of verification. Once received, enter the reset code and select next.
If you indicated that you do not know your UNF ID, you will be prompted to enter an associated recovery address to receive your UNF ID.