oneColumn
Self-Service Software and Updates
Faculty/staff can manage their own software installs, updates and computer restarts. Using a self-service application already installed on UNF-managed Windows and Mac computers, faculty/staff can install programs without administrative rights and control when their computer will restart to apply required software updates. If software update notifications are ignored, a computer will automatically restart about four-hours after a user logs in to it. Warnings will be displayed so the user will have plenty of time to save their work.
ITS Recommendations for Installation of Updates
You will receive notification in the bottom right task tray that Software changes are required. The Microsoft notification typically appears on the second Wednesday of each month as updates become available from the vendor.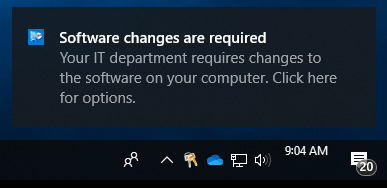 Select the arrow in the lower right of your task tray then find the software changes icon.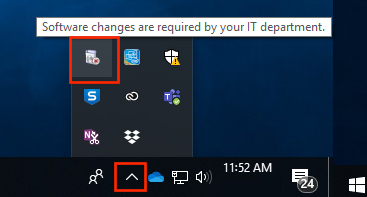 Select the notification or software changes icon to access the Software Center. Under the Updates menu select the Install All button. You can now continue to use your computer. Updates will install and be applied at the next reboot. (Note: if your computer is not rebooted before the following Sunday maintenance window, it will do a self-restart to apply the updates)

Windows Self-Service Using Software Center
Self-Service updates are provided through the Software Center on Windows-based UNF computers. Software Center is a single place to view and install available software and updates.
Software center is available from the start menu on UNF Windows-based systems. It is comprised of five key areas:
Applications - software available to install on your device(s). Installations do not require administrative rights.
Updates - lists available software updates and allows you to install these on your schedule.
Operating Systems - will list available Operating System Upgrades. For example an upgrade for Windows 7 devices to go to Windows 10. These updates are user-driven and will enable you to perform a complete Operating System upgrade on your device.
Installation status - shows the status of installed software and updates.
Options - allows you to tailor your working hours which informs when software and updates are installed to avoid interrupting your productive working hours.
An example of the software center appears below: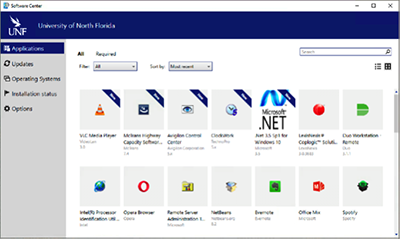 Mac Self-Service Using JAMF Self Service
Apple-based UNF Computers utilize a product named JAMF Pro for systems management. JAMF Pro (aka JAMF) includes an app named Self Service. This app is similar to the software center for Windows devices.
JAMF is organized into three main areas:
Library - This contains a list of applications and actions available to your UNF Mac device. This includes software that can be installed, operating system upgrades and system maintenance and update tasks.
History - lists applications that have been installed on this device using Self Service.
Updates - This area is currently not used by UNF. Updates are available in the Library area of Self Service.
Self Service is available in the Applications folder of UNF Mac Devices.
An example of JAMF Self Service appears below: