twoColumn twoLeft
The Carnegie Project on the Education Doctorate
What is The Carnegie Project on the Education Doctorate (CPED)?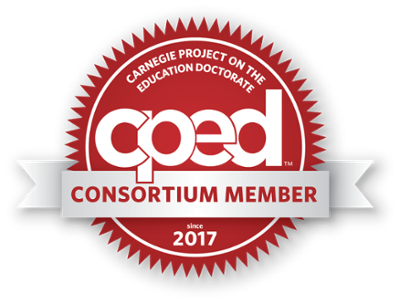 The Carnegie Project on the Education Doctorate (CPED) began in 2007 and currently is a consortium of over 100 colleges and schools of education that have committed resources to work together to undertake a critical examination of the doctorate in education (Ed.D). The purpose of CPED is to build the capacity of educational leaders through the creation of a rigorouss professional practice doctorate. The Vision of CPED is to inspire all schools of education to apply the CPED framework to the preparation of educational leaders to become well-equipped scholarly practitioners who provide stewardship of the profession and meet the educational challenges of the 21st century. The mission of CPED is to strengthen, improve, support and promote the CPED framework through continued collaboration and investigation. The CPED Framework consists of three components - a new definition of the Ed.D., a set of guiding principles for program development and a set of design-concepts that serve as program building blocks.
What does membership in CPED mean for UNF?
In 2017, the College of Education and Human Services was selected for membership in the highly respected CPED and began the process of revising the program under the CPED framework and guiding principles for program design. Under those guidelines, the professional doctorate in education:
Is framed around questions of equity, ethics, and social justice to bring about solutions to complex problems of practice.
Prepares leaders who can construct and apply knowledge to make a positive difference in the lives of individuals, families, organizations, and communities.
Provides opportunities for candidates to develop and demonstrate collaboration and communication skills to work with diverse communities and to build partnerships.
Provides field-based opportunities to analyze problems of practice and use multiple frames to develop meaningful solutions.
Is grounded in and develops a professional knowledge base that integrates both practical and research knowledge, that links theory with systemic and systematic inquiry.
Emphasizes the generation, transformation, and use of professional knowledge and practice.
Where can you learn more about CPED?
To learn more about CPED, you can visit their website at: http://www.cpedinitiative.org
 You can also watch a video on CPED by clicking this link: https://vimeo.com/105021838