oneColumn
Student Parking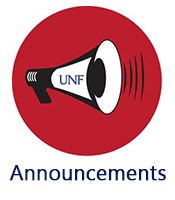 Welcome to campus Ospreys! Parking Permits are a must-have when you park your vehicle here.
Immediately upon registering for classes, buy your permit as soon as permits go on sale! Permit sale dates can be viewed through Osprey Update for Students, and on this web page. 
Varying class schedules allow for plenty of spaces to be available across campus at all times, but some of the spaces may not be at in the lot or garage you desire that is closest to your destination.
Tips:
Before you buy
Parking permits are sold on a "first come, first served" basis. Buy your permit as soon as permits go on sale. Don't wait, because some of the more desirable permits have set sale limits and will sell out. The Gray Lot permit never sells out.
To avoid congested parking, schedule your classes away from the peak times: Monday and Wednesday from 10 a.m. to 2 p.m. and all day on Tuesday and Thursday.
If you are desiring to use Financial Aid to cover the cost of your parking permit, you will need to complete a "Financial Aid Authorization Form", located in myWings under "My UNF Bill". Read the statement and select the Authorization button to complete the form. Proceed to purchase a permit, follow the steps to purchasing your permit and the fee will appear on your myWings Student Account, 24 hours after the online purchase is completed. Any excess financial aid will apply to this fee.
Save some $$ by purchasing a Gray Lot permit, they are less expensive.
After you buy
Your license plate is your permit (physical permits are not distributed). Please make sure the information on your parking account via myWings is correct and park your vehicle "nose-in". For example, do not back into a parking space and do not pull forward into the open space in front of the original space.
You may register up to 5 vehicles to your purchased permit through your online parking account via the myWings portal. Please note you may only have one vehicle on campus at a time.
If you own both a 4-wheel vehicle and a motorcycle, both cannot be parked on campus with one registered permit. It is in your best interest to purchase a vehicle permit and a motorcycle permit. The vehicle must park within the valid parking lots designated to the purchased permit, and the motorcycle may park within any designated motorcycle spaces stationed throughout campus.
Have a question, concern or suggestion?
Please e-mail us at parking@unf.edu