oneColumn
UNF Faculty and Staff Parking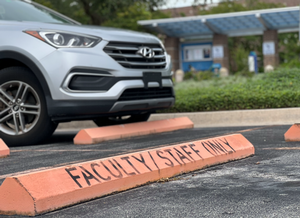 Thank you for being apart of the UNF family! As a family member you have the opportunity of purchasing a permit prior to the student permit sales date. Permit sale dates can be viewed through Osprey Update for Faculty and Staff and below on this web page. Purchase your permit as soon as it goes on sale because the more desirable permits, such as Orange Faculty/Staff, tend to sell out quickly. Other permit categories such as Blue, Gray and Motorcycle will continue to be available to faculty and staff.
Before you buy
Your license plate is your permit (physical permits are not distributed).
Please make sure the information on your Parking Account via myWings has your correct license plate information listed. If you change vehicles or license plates, be sure to update your vehicle information prior to parking on campus.
It is very important to enter your license plate information accurately. The most common mistake is to enter the letter "O" instead of the number zero. Florida license plates only use zeros. (The requirements for other states may differ.) Should you have a custom plate with the letter "O", please notify Parking Services,

 

(904) 620-2815

 

or

 

parking@unf.edu.
If you see out of date or incorrect license plate information, contact Parking Services.
Park your vehicle nose in. For example, do not back into a parking space and do not pull forward into the open space in front of the original space.
The preferred payment method is by using the 24-payment payroll deduction. This is a pre-taxed deduction and allows for any changes to the account, such as upgrades and permit returns, to be much easier.
Faculty/Staff permit allows the priority to all Faculty/Staff spaces, located on the first floor of the garages and other premium lots that are marked with orange wheel stops. This permit is sold as an annual permit only.
After you buy
If you are a 9-month faculty or staff employee using the 24-payment plan for your parking permit, be sure to complete the Stop Payroll/Refund form located in myWings under, Employee Online forms to stop your payments.
You may register up to 5 vehicles to your purchased permit through your online parking account via myWings portal. Please note you may only have one vehicle on campus at a time.
Have a question, concern or suggestion?
Please e-mail us at parking@unf.edu