About Honors
oneColumn
About Us
The Hicks Honors College is an interdisciplinary program designed for high-achieving students that emphasizes experiential and active learning in small classes. We provide you with a personalized education usually only available at small liberal arts colleges while still offering all the resources of a state university. Our students represent the best that every new class of Ospreys has to offer: students with high intellectual ability, a strong work ethic, and a desire to get the most out of their college experience, both academically and socially.  
Our Focus on 5 Areas of Student Development
The Hicks Honors College offers a comprehensive four-year program with hands-on, in-depth learning. This experience is based on five areas of development:
Critical Thinking

 

- Honors students develop skills in analysis and synthesis through a range of discussion-based active learning and writing-based classes.
Leadership- Honors students develop intrinsic leadership skills in the context of their academic, career, and personal goals.
Engagement

 

- Honors students take responsibility for learning outside the classroom.
Interdisciplinary Perspective

 

- Honors students make valuable connections between academic disciplines through interdisciplinary courses.
Global Awareness

 

- Honors students gain an awareness of issues in a global context, preparing them for the diverse world in which they will live and work.
Vision
The Hicks Honors College demonstrates its commitment to academic and cultural growth, civic awareness and student success by fostering a community of intellectually curious global citizens. Through the Hicks Honors College, students are encouraged to develop rigorous and comprehensive critical thinking, their sense of integrity and a commitment to service.
Mission
The purpose of the Hicks Honors College is to foster the enlightenment, empowerment, and ennoblement of Honors students. It does so by facilitating the acquisition of knowledge, skills, and values that will inspire students to be effective life-long learners and critical thinkers; by giving students confidence to venture forth into and participate actively in communities beyond those with which they are most immediately conversant and comfortable; and finally by encouraging students to serve or contribute to those communities in lasting and tangible ways by putting their knowledge, skill, and values to meaningful use.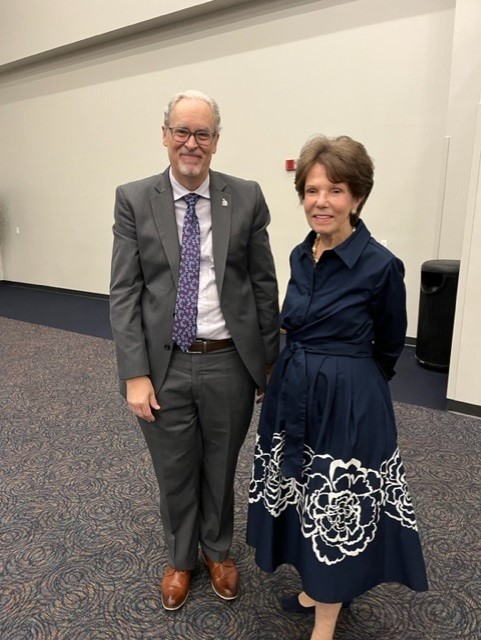 Dr. Chamberlain "Dr. J" and Mrs. Hicks
The Endowment of the Hicks Honors College
Hicks Honors College is named for Ann and David Hicks, longtime community leaders, philanthropists, and UNF supporters. The name officially changed to Hicks Honors College in 2016, after the couple generously donated $7 million to the University of North Florida.
"The University is so grateful for Ann and David," said UNF President John Delaney at a large public ceremony. "We're thrilled to announce the establishment of the Hicks Honors College, which will provide a unique interdisciplinary learning experience for some of UNF's high-achieving students."
"In all my years of affiliation with UNF, I have wanted to establish a small Amherst College in the midst of our vibrant university. It's the best of both worlds for the honors students," said David, a successful Jacksonville business executive.
"These high achievers have the benefit of small classes and intimate learning experiences, while participating in the dynamic atmosphere of the larger university. Of utmost importance, the honors students will graduate without the burden of debt, which might have been incurred had they chosen a prestigious private university. Our goal is to have their education comparable to that of top-tier institutions," said Ann, a 1994 UNF graduate.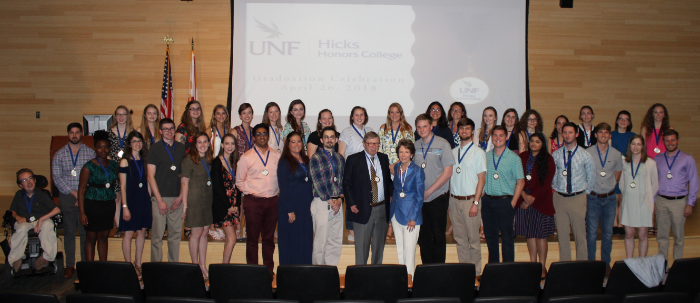 Hicks Honors College graduation ceremony with Ann and David Hicks, 2016