Contact Us
oneColumn
ADA Compliance for Employee Services
ADA Compliance Office
1 UNF Drive, Building 6, Room 1314
Jacksonville, Florida 32224
Phone: (904) 620-2870
Fax: (904) 620-2585
ADA Compliance Staff
Rocelia Roman de Gonzalez
Director
rrgonz@unf.edu
Rachel Fieschko
Accessibility Technology Analyst I
r.fieschko@unf.edu
Simisola Olowodola
Web Assistant & ADA Support
s.olowodola@unf.edu
Student Accessibility Center (SAC)
for Student Disability Accommodations
Student Accessibility Center (SAC)
Building 57, Room 1500
email: SAC@unf.edu
Phone: (904) 620-2769
Fax: (904) 620-3874
You may also contact Disability Service Specialist, India Hamilton,
for all student accommodation registration questions and can be reached at
email: india.hamilton@unf.edu or telephone: (904)-620-2222.
Click here to Meet the SAC Staff
Contact ADA Compliance for Employee Services
The UNF ADA Compliance office serves as the central point of intake for matters relating to ADA and facilitates the flow of information among the various University offices relating to ADA compliance at UNF. The Director ADA Compliance Office is responsible for ensuring compliance with the Americans with Disabilities Act (ADA) of 1990; the Rehabilitation Act of 1973, as amended: Section 504 and Section 508; and other federal and state laws and regulations pertaining to persons with disabilities. We implement ADA policies and provide consultation for facilities planning. We maintain current information regarding state and federal laws and regulations, as well as adhering to best practices with regard to the rights of persons with disabilities. In accordance with ADA laws, we provide reasonable accommodations to qualified individuals with disabilities who are staff or faculty members and who are able to perform the essential functions of their position with or without an accommodation.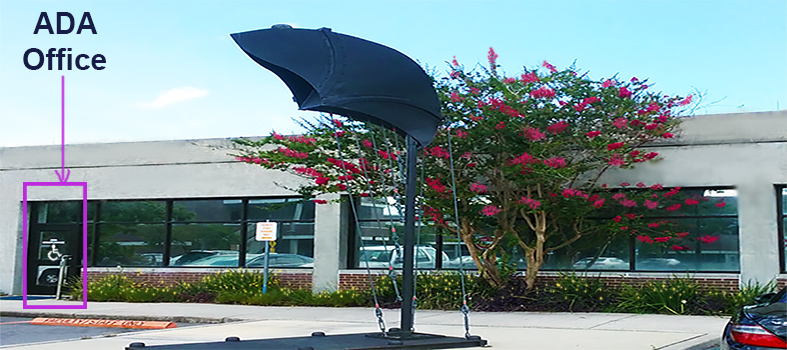 The ADA Compliance office is located in Building 6, the front door near a large metal sculpture. Feel free to call if you need further directions on how to locate us!