Jaime Sanchez
oneColumn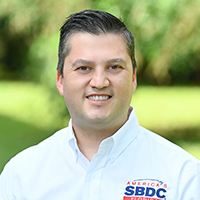 Title: Beyond Business Hours Consultant, Marketing Assistant
Specialties: Bilingual, advertising & promotion, E-Commerce, market research, digital marketing, computer & software systems, and customer service
Office location: Virtual
Jaime Sanchez is a business consultant specializing in Digital Marketing who joined the Florida Small Business Development Center at the University of North Florida in 2020. Before joining the FSBDC at UNF team, he worked in the digital and printing industries for over 18 years, focusing on graphic design, web design, and UX/UI. With his extensive knowledge of the industry and fluency in both English and Spanish, he takes high-level concepts through the planning, design, and execution phases with a multi-cultural, multi-lingual approach.   
In his current role, Jaime collaborates with local businesses in the 18-county region and helps them create and execute digital strategies to reach existing and prospective customers. Clients appreciate his well-rounded, end-to-end approach to digital design and solution development. Jaime studied graphic design, interactive multimedia, and web design in Bogotá, Colombia, and later continued his training in web development in Jacksonville, Florida.  
Apart from his professional passions, Jaime enjoys spending time with his wife, Andrea, and their two children, Simon and Emilio. He is excited to meet new clients and help them achieve their goals.