Undergraduate Programs
oneColumn
The School of Nursing at the Brooks College of Health offers four (4) tracks for the Bachelor of Science in Nursing (B.S.N.). The curriculum is community-based in that it supports engagement with the community throughout the nursing major, nurturing and building relationships with community agencies consistently over time through an innovative home-basing of students in a designated community for the entire length of their nursing program.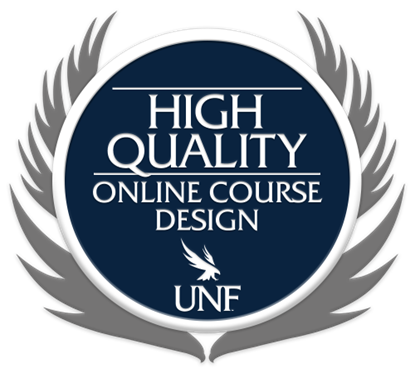 The RN-BSN program is proud to have earned the High-Quality (HQ) designation. This significant accomplishment indicates that the courses have met rigorous, research-based course design standards. HQ standards are centered on the best practices in instructional design and online learning using the national Quality Matters rubric and standards.
Undergraduate Program Tracks
Baccalaureate Program Objectives
At the completion of the University of North Florida's baccalaureate program in nursing, the graduate will:
Use the UNF School of Nursing conceptual framework as a basis for professional nursing practice.
Synthesize knowledge from nursing, the natural and social sciences, mathematics, and the humanities as the basis for providing culturally competent care within a diverse society.
Use critical thinking skills through the nursing process, working in collaborative partnerships to protect, promote and optimize health for individuals, families, and communities throughout the lifespan in a variety of environments of practice.
Demonstrate leadership and management skills to work productively within interprofessional teams to enhance quality improvement processes and improve outcomes in various healthcare settings.
Evaluate and integrate scientific findings into evidence-based professional nursing practice.
Demonstrate professional values in all collaborative partnerships to foster advocacy and professional accountability.
Incorporate into practice professional nursing standards, effective written and verbal communication skills, and the use of information management and care technology systems.
Establish goals for future personal and professional growth through a commitment to lifelong learning.