Undergraduate Research
oneColumn
Welcome to the Office of Undergraduate Research
The Office of Undergraduate Research (OUR) at the University of North Florida (UNF) is open Monday through Friday during regular business hours, or email us anytime at OUR@unf.edu. 
The OUR provides services and support to UNF undergraduates who are interested in conducting research or creative research projects in any discipline and 
across all colleges, departments, and majors
. Studies and experience show that actively engaging in undergraduate research or special projects 
under the guidance of a faculty mentor 
will expand your intellect, strengthen your resume or
curriculum vitae
(CV), and enhance your marketable skills.
Congratulations to March Undergraduate Researcher of the Month: Thalia Lynn!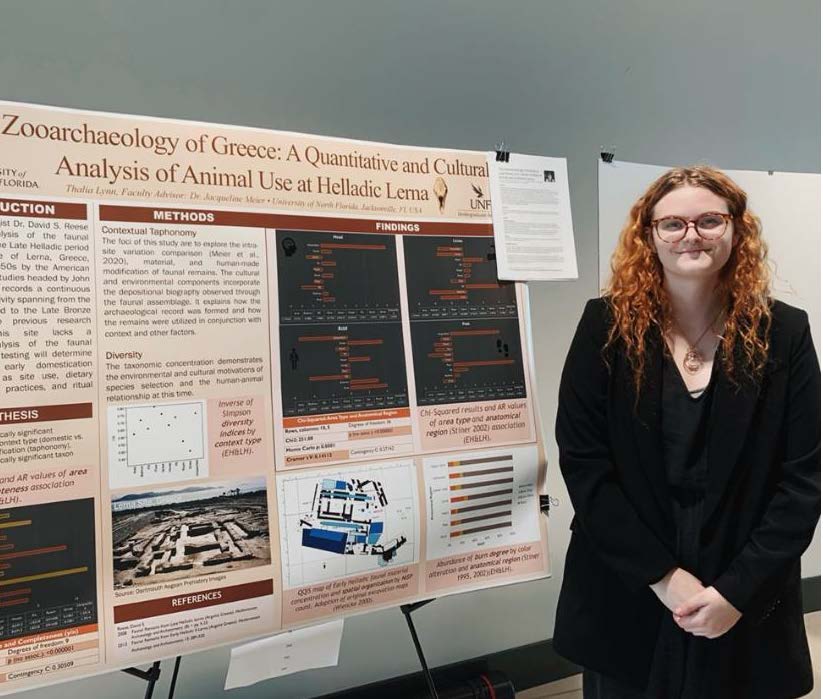 Thalia Lynn is a senior Anthropology major and Environmental Studies minor.  She has been working with Dr. Jacqueline Meier since the summer of 2021 to study sheep herding at the famous site of Mycenae in Greece.  Additionally, through an independent study, she analyzed faunal remains from Helladic Lerna, Greece, using published data from Dr. David S. Reese.  Thalia learned to transcribe published descriptions into her own dataset, separate individual animal bone specimens by attribute, and understand variation within the space of the site.  Through this, she has been able to reconstruct the role of animal ritual, dietary practices, and refuse management within that culture.  Thalia also contributed to the research of Dr. Keith Ashley by excavating archaeological sites in Jacksonville to better understand the Indigenous histories of this region and conducted an experimental archaeology project to better understand how pottery was made in the past in northeast Florida.  Dr. Meier praises Thalia for her various research activities, saying that she sets a great example for other students of how to engage in a variety of different research projects.  Thalia has presented her research findings at the annual Sociology, Anthropology, and Social Work Research Symposium, SOARS, and Student-Led Research Projects Presentations on campus, and at the annual meeting of the Archaeology Institute of America, in New Orleans in January and the Florida Undergraduate Research Conference held at St. Thomas University in February.  Additionally, she will present as a co-author with Dr. Meier at the annual meeting of the Society of American Archaeology in Portland, Oregon, at the end of March.  After graduation this spring, Thalia plans to continue her education and pursue a PhD in Zooarchaeology.  She encourages others to follow their passions, adding that the type of hard work and consistency that good research requires becomes easier to maintain when you have a genuine interest in what you do.