Undergraduate Research
oneColumn
Welcome to the Office of Undergraduate Research
The Office of Undergraduate Research (OUR) at the University of North Florida (UNF) is open Monday through Friday during regular business hours, or email us anytime at OUR@unf.edu. 
The OUR provides services and support to UNF undergraduates who are interested in conducting research or creative research projects in any discipline and 
across all colleges, departments, and majors
. Studies and experience show that actively engaging in undergraduate research or special projects 
under the guidance of a faculty mentor 
will expand your intellect, strengthen your resume or
curriculum vitae
(CV), and enhance your marketable skills.  
Congratulations to November Undergraduate Researcher of the Month,  

Rebecca Robinson!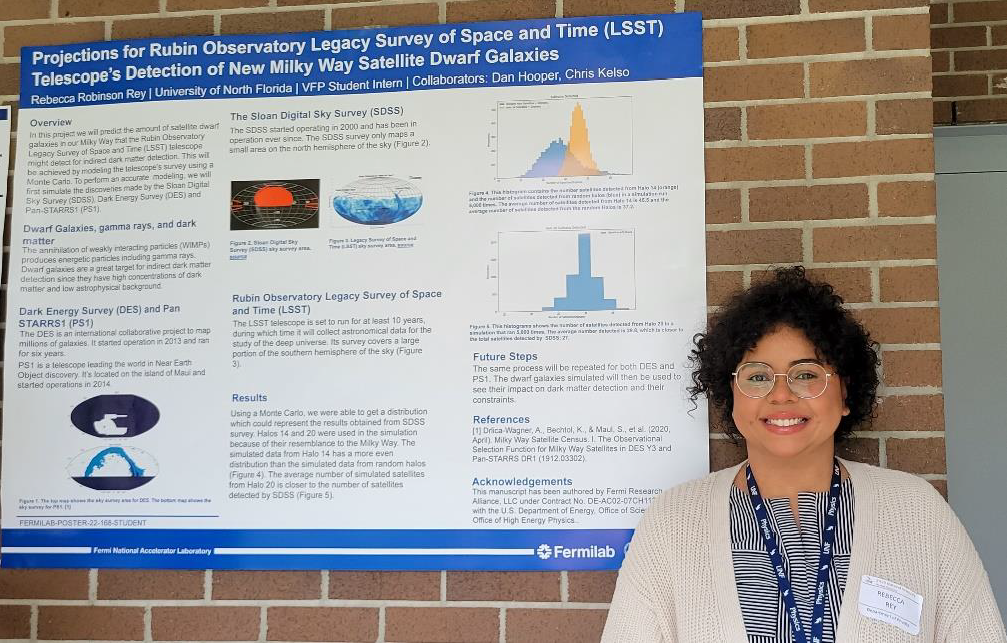 Rebecca Robinson Rey is a senior physics major, with a concentration in astrophysics.  As a member of Dr. Chris Kelso's research program, Rebecca studies the detection of satellite dwarf galaxies and how those data can predict dark matter in the universe.  Using Monte Carlo modeling, she was able to determine the number of satellites from data captured using Dark Energy Survey (DES) and Pan STARRS1 (PS1) and the Sloan Digital Sky Survey, which map galaxies near earth.  She intends to use similar modeling to predict the detection of new satellite dwarf galaxies by the Legacy Survey of Space and Time (LSST) telescope, and hence dark matter, in the deep universe.  Rebecca enjoys learning about cosmological aspects of the universe and developing her coding skills through this project.  Previously, Rebecca worked with Dr. John Hewitt to analyze data from star clusters captured using the Fermi-Large Area Telescope (LAT).  In addition to her research interests, Rebecca serves as the vice president of the UNF Society of Physics Students, through which she also volunteers her time as a peer tutor.  She has presented her research data at the Natural Sciences Poster Session and was a featured speaker at Spooky Research, which was organized by the UNF Research Ambassadors Club.  After graduation, Rebecca plans to attend graduate school to pursue a PhD in either astrophysics or medical physics.  
Upcoming OUR Events:
Houston Methodist Summer Undergraduate Research Internship Info Session
Friday, November 18, from 2 pm - 3 pm
Wednesday, November 23
What is FURC?
Thursday, December 1, from 1 pm - 2 pm
Building 12 (Thomas G. Carpenter Library), Room 2102A
Apply for the FURC travel award
U-GLIDE Symposium
Friday, December 9
Building 4 (Skinner - Jones Hall), Room 1705