oneColumn
Mapping Hispanic and Black Bilingual Jacksonville in the Late Nineteenth and Early Twentieth Centuries
This project proposes an interactive digital map to document the constitutive presence of, and interactions between, Hispanic and bilingual African American communities in Jacksonville, Florida, during the late nineteenth and early twentieth centuries. The map will offer a visual interface into related textual material (e.g., material connecting Jacksonville to canonical works of Cuban and U.S. literature), archival documents, and photographs that, for the project's first phase, will be based on prior peer-reviewed research. The general purpose is to help users view the city and its cultural history differently. At the same time, the ongoing development of the project is meant to invite further faculty-supported student research, participation by members of the local community, and collaboration with scholars in Hispanic and Africana Studies at UNF and beyond.
With the support of the Digital Humanities Institute and Center for Instructional and Research Technology at UNF, the interactive map of Hispanic and Black Bilingual Jacksonville in the Late Nineteenth and Early Twentieth Centuries will be accessible via a website built using Omeka Classic and the Neatline mapping plug-in. With these or similar tools, this project will propose to associate individual items—documents, images, recordings—and exhibits—interpretive essays and similar—to geographical locations and display them on the map.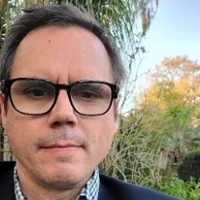 Faculty Project Leader
---
Greg Helmick works on configurations of nationhood, ethnicity, and cultural contact, between Cuban, Puerto Rican, and the U.S. communities—particularly African American and non-Spanish-speaking Caribbean communities—in textual production in Spanish and English. In Cuban and Puerto Rican literature, such contact is developed thematically in historical fiction and essays that complicate archival configurations of nationhood and exile with the 'noise' of documentary flows between Caribbean communities and U.S. sites of multistoried colonization. His current book project focuses on documenting shared literary and historical production between Cuba and northeast Florida during the first half of the twentieth century, in the face of erasures incurred during Plattist, Jim Crow, Fordist and Batista-era social regimes.