oneColumn
Supplier Registration Guide
Step 1: Complete a Supplier Quick Application
If you've already received an invitation email, continue to Step 2.
The Supplier Quick Application may be accessed via Supplier Resources. Prior to entering information into the Supplier Quick Application, the platform will validate your contact information via email address or phone number with a Code. Enter the 4-digit number provided in the Code Validation Form
Read the Instructions page, then select Next. Provide information in Questions text fields: supplier name, products/services offered, UNF department you anticipate providing products and/or services to, website URL, and your first name, last name, email address, and phone number.
Select Next to advance to the Review and Complete screen. Click the checkmark to certify that the statements and information in the request are true and correct. Complete Request. The form will return to the Code screen after it is submitted. Please do not complete the Supplier Quick Application a second time.
Step 2: Receive the Email Invitation
Within 1 business day, an email titled "Supplier Invitation for University of North Florida" will come from UNF@sciquest.com. If you do not see it, please check Junk Mail. (For Individuals, the email is titled "Individual Invitation for University of North Florida.)
In the email, click the Register Now button. This will direct you to the portal for basic user details. Enter these details, then Create Account.
Step 3: Complete Supplier Registration Tabs
Once in the system, you will be prompted to navigate through registration. Please take care to read instructions in detail.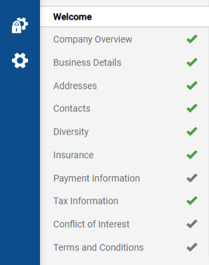 Supplier Registration includes the following sections:
Welcome
Company Overview
Business Details
Addresses (Fulfillment and Remittance)
Contacts (Sales and Remittance)
Diversity
Insurance (including Automobile, General, and Professional Liability, if applicable)
Payment Information (ACH or Check)
Tax Information (W-9 or W-8 BEN-E)
Conflict of Interest
Terms and Conditions (as applicable, upload previously negotiated and executed agreement)
Certify & Submit
Individual Registration includes the following sections:
Welcome
Individual Overview
Addresses
Contacts
Payment Information (ACH)
Tax Information (W-9 or W-8 BEN)
Conflict of Interest
Terms & Conditions
Certify & Submit
If you need assistance at any point during registration, please contact Procurement Services at supplierhelp@unf.edu or (904) 620-2730.
Step 4: Await Approval and Watch for Status Updates
If all information and documentation provided are correct, review and approval of your record will take 2 to 3 business days. If there is an issue, a Supplier Registration Team member will contact you using the system address (UNF@sciquest.com). Follow-on emails will come from supplierhelp@unf.edu.
The morning after your supplier record has been approved, you will receive an email titled "Welcome to the UNF Supplier/Vendor Family."
Step 5: Ongoing Updates
Your registration information may be viewed and updated at any time within the Supplier Portal. Supplier Login may be accessed via Supplier Resources. Upon logging in, select Manage Registration Profile.