UNF chapter receives Eta Sigma Gamma National Awards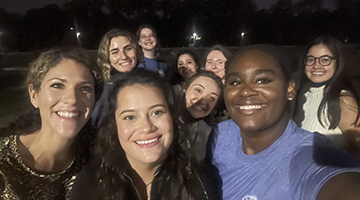 The Alpha Gamma chapter of Eta Sigma Gamma (ESG) at the University of North Florida received both the National Advocacy Activity Award as well as a Chapter Recognition Award for chapter activities at the ESG Business Meeting and Awards Ceremony on March 31.
These awards were received for efforts related to ESG's Ospreys Against COVID a mini-grant program funded through the American College Health Association in the 2021-2022 academic year. UNF was one of only 20 universities nationally to receive funding for this initiative focused on reducing COVID transmission using means other than just vaccinations. As a part of this initiative ESG hosted the first annual Pumpkin Spice & Saving Lives fall festival which reached over 500 students. Other efforts of the honorary under this initiative included Market Day advocacy themes such as Squash COVID Pumpkin Painting, Spread Love Not COVID with the American Heart Association, and Caffeinated and Vaccinated coffee giveaway days donated by local coffee shops around Jacksonville.
The awards given to the UNF student group reflect the chapter's hard work and efforts to elevate the mission and goals of ESG in the name of health education. ESG is a national health education honorary founded in the 1950s that helps promote health education discipline by elevating the standards, ideals, competence, and ethics of students enrolled.
Categories
Recent Articles