UNF alum return to campus to mentor public health students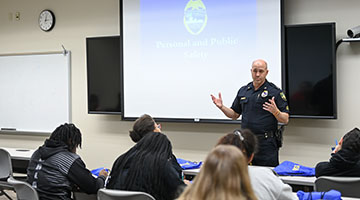 Jacksonville Sheriff's Office Chief, Mark Romano, as well as Duval County Schools Health Educator, Heather Albritton, are both University of North Florida alum who recently returned to campus to mentor public health students on personal safety and substance abuse prevention.
The presentations to Dr. Tamara Gibson-Alonso's freshman public health class are one component of the class's focus on engagement and learning with a variety of local community-based health organizations including Drug-Free Duval, YMCA, and Duval County Public Schools' Health and Physical Education Department.
For some organization collaborations, students attend field trips to partner organizations and listen to public health-focused presentations, then follow up with the organizations to create resources that can be shared with peers in class and in the community.
Categories
Recent Articles