Coggin College of Business Adds Experienced Transportation & Logistics Leader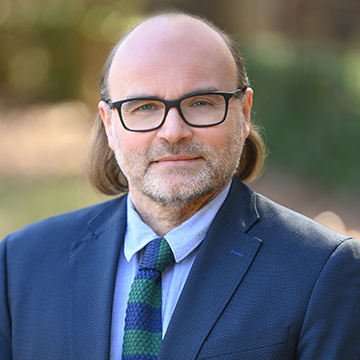 The University of North Florida Coggin College of Business is expanding through the addition of a new faculty member to lead the University's Crowley Center for Transportation and Logistics (CCTL) and new course offerings for students.
UNF's Transportation & Logistics (T&L) Program is a leading, preeminent provider of high-quality undergraduate, graduate and executive education in the areas of logistics and supply chain management education that prepares students for opportunities in the dynamic and vibrant logistics industry.
Coggin College is proud to welcome Dr. Herbert Kotzab, one of the foremost global authorities in transportation and logistics, as the Director of Crowley Center for Transportation and Logistics and the CSX Transportation Eminent Scholar in Transportation and Logistics.
He brings a wealth of experience, research and expertise which includes strategic logistics and supply chain operations, digitalization in the supply chain, global supply chain management, marketing channels and strategic distribution management, supply chain analysis and logistics audit, service operations, retail marketing, retail logistics and efficient consumer response.
Dr. Kotzab held several esteemed academic positions at multiple institutions throughout Europe and beyond in the past 25 years. His most recent post was as chair/professor of logistics management at the University of Bremen. He has received various prestigious awards and recognitions, participated in research projects and industry engagement involving consultancy work, and was active in editorial contributions to multiple academic and industry publications and journals. 
The T&L program is also expanding by launching new courses on the graduate level for Fall 2023 semester including a Logistics and Supply Chain Management certificate and a MSBA Logistics and Supply Chain Management concentration. The additional courses are in response to a growing demand from professionals looking to further their careers in multiple facets of the transportation and logistics industries.
UNF's T&L Program affirms the university's civic engagement and community-based focus through its numerous corporate partnerships with local and regional transportation and logistics firms. Its central location in Jacksonville, Florida, a major distribution hub with extensive access to rail, air, maritime and highway transportation as well as warehousing and international logistics, makes the UNF Coggin College T&L program soar above the rest. Learn more about UNF's Transportation & Logistics program.
Categories
Recent Articles