Affordability Counts Initiative
oneColumn
Overview
Our students face significant financial responsibilities as they consider funding their university experience. One way faculty can help reduce that financial burden is by adopting low-cost instructional materials. To raise awareness and increase the use of low-cost instructional materials, UNF partners in Affordability Counts, a statewide initiative that recognizes faculty throughout the state who adopt low-cost materials. This initiative supports UNF's effort to improve on Performance-Based Funding Metric #3.
To support this statewide effort, affordabilitycounts.org was established as a one-stop online resource where educators statewide can share low-cost solutions. The website features a searchable statewide low-cost course listing with each course's low-cost materials, which other faculty can adopt as their own.
Objectives
In addition to the overarching goal of lowering costs for students, this initiative aims to:
Provide a functional framework for other institutions to enact low-cost initiatives.
Partner with sister institutions to reduce the overall costs of students' learning materials.
Provide access to an expanding catalog of low-cost materials for a more seamless adoption.
Why Commit to Low-Cost
In addition to lowering student costs, this initiative aims to provide access to an expanding catalog of low-cost textbooks and course materials for a more seamless adoption. Visit Affordability Counts Learn for a list of free and low-cost textbooks, Open Educational Resources (OER), state and local open textbook initiatives, self-publishing options, and additional resources.
How Does It Work
To work towards reducing the overall cost of student's learning materials, UNF faculty members teaching courses withrequired materials costing students no more than $20/credit in total out-of-pocket expenses (including courses that cost $0) are encouraged to submit their courses to receive the Affordability Counts medallion and be recognized statewide for their efforts to promote access and increase savings for students.
Eligible Courses
To be eligible for an AC medallion:
Courses submitted for Affordability Counts must meet all criteria.
The total cost of required materials is determined based on a hardcopy (new) or digital (purchase or rental) price.
Instructors must submit course textbook adoptions via the bookstore Discover textbook adoption tool. This serves as an accurate picture of the cost of course materials and is aligned with the BOG performance metrics on cost-to-degree. Courses that use no textbooks and/or OER must be entered as such in the adoption tool, or the course will appear "missing" in adoption compliance and not eligible for the Affordability Counts medallion.
Note: 0-credit hour courses are not eligible.
Receiving the AC Medallion
Step 1: Visit the Affordability Counts website and submit your course. You must provide all the required information, which includes identifying all required course materials. Upon submission, you will receive an email confirmation from the AC website, and at that point, you are done with your part.
Here are a few tips concerning the course submission form:
Phone number is NOT required; please leave this field blank.
There is a field where you are asked to list course materials available in your course. At a minimum, you should list all required materials with ISBNs and/or provide links to any required e-books that students can access without a login (e.g., openstax). If your course contains many links to other external resources (articles, YouTube videos, webpages, etc.) and it's too much to list them all, briefly state which types of resources are in your course and list a few.Note: If your course requires no course materials, press the (-) button to remove this field.
There is also a required field to certify that your course does not feature the misuse of copyrighted content. A few clear examples of misuse of copyrighted materials include posting PDFs or other documents of journal articles and/or partial/whole pages from textbooks or streaming unlicensed audio/video directly from your course in Canvas. Usually, links to source materials rather than uploading them directly into your course will avoid copyright infringements.
Please upload a copy of your course syllabus.
Step 2:Your submission will be reviewed to ensure that it meets the Affordability Counts criteria and has been submitted through the UNF bookstore Discover textbook adoption tool. Once we verify your course, we will mark it as either approved or not approved.
Step 3: If your course is approved, you will receive a confirmation email from UNF Online that includes the Affordability Counts medallion (shown right), which you can display in your course. You will also receive an email confirmation from affordabilitycounts.org that your course has been approved and added to the low-cost course listing. From start to finish, this process usually takes less than two weeks.
Displaying the AC Medallion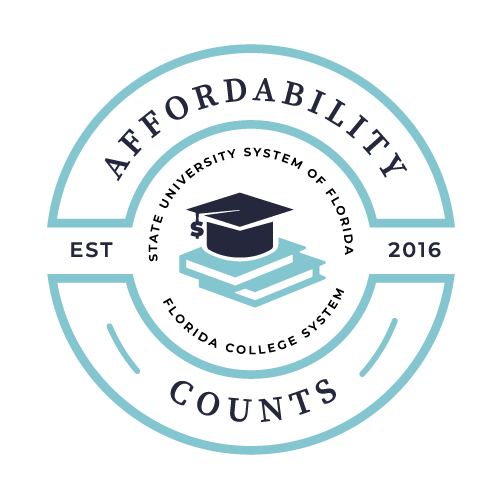 The Affordability Counts medallion can be displayed in your course indefinitely so long as the total out-of-pocket expense to students does not exceed $20/credit. We recommend inserting the medallion in your Syllabus and at the bottom of your course homepage. If you need assistance adding the medallion to your course, please get in touch with Course Media Developer Audrey Murray at audrey.murray@unf.edu.
Note: If the total cost of required course materials increases to more than $20/credit, please remove the medallion from your course and email kevin.hulen@unf.edu.
AC Committee
The following members are charged with the oversight or course submissions and implementation of the AC Initiative:
Marianne Jaffee, Provost's Office
Deb Miller, Academic Affairs
Abby Willcox, Institutional Research
TBD, Bookstore
TBD, Carpenter Library
Susan Perez, Associate Dean, COAS
Kevin Hulen, UNF Online (AC Institutional Admin)
Thank You For Making It Count
Since joining this statewide initiative in Summer 2019, 242 UNF faculty have participated, resulting in 517 courses awarded the Affordability Counts medallion for a combined average cost of required course materials $4/credit hour. Thanks for your commitment to lowering educational costs for students.