oneColumn
Physical Therapy Clinical Education
The Physical Therapy program at the University of North Florida is dedicated to preparing students for entry-level clinical practice through activities and courses that stimulate critical inquiry. The program is committed to life-long learning and seeks to provide opportunities for ongoing professional development for students in the program, as well as for professionals in the field.
The links below offer information on clinical education in general and the specifics of the UNF Physical Therapy program in particular.
Florida Consortium of Clinical Educators
Dedicated to supporting quality clinical education for PT and PTA students. This website offers a variety of references, resources, and information on events for clinical educators.
American Physical Therapy Association
Dedicated to the latest advancements in physical therapy practice, research, and education. This website also offers numerous resources and access to the Physical Therapy journal.
Application Deadlines
Fall Term . . . . . . . . November 15
Admission Requirements
For admission requirements and information on how to apply, please visit
Clinical Education Documents
Syllabi for Clinical Experiences
Additional Information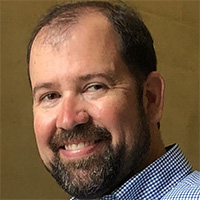 Dr. Rob Robinson PT, DPT
Director of Clinical Education and Assistant Clinical Professor