oneColumn
Rental Options
Rooms & Rates
Full Capacity
Room
Type
Sq Ft
Capacity

(Theater)

Capacity

(Classroom)

Capacity

(Rounds)

Capacity

(Square)

½ Day Rate
Full Day Rate
Grand Banquet Hall
Ballroom
9720
710
300
464
-

$1100

$1200 (Saturday or Sunday)

$1800

$2000 (Saturday or Sunday)

Board of Trustees
Ballroom
3240
250
120
160
60

$500

$600 (Saturday or Sunday)

$850

$1000 (Saturday or Sunday)

1084
Conference
345
30
12
16
12
$120
$195
1088
Seminar
810
65
30
40
24
$200
$330
1090
Seminar
810
70
36
40
24
$200
$330
1095
Seminar
667
55
30
32
22
$200
$330
1097
Seminar
667
55
30
32
22
$200
$330
1078
Seminar
667
55
30
32
22
$200
$330
1073
Seminar
667
55
30
32
22
$200
$330
1068
Conference
345
30
12
16
12
$120
$195
1101
Conference
345
30
12
16
12
$120
$195
1059
Seminar
750
55
30
40
24
$200
$330
1027
Seminar
1830
165
70
100
38
$300
$500
1020
Seminar
810
55
32
32
22
$200
$330
1010
Seminar
810
55
32
32
22
$200
$330
1009
Seminar
810
55
32
32
22
$200
$330
1008
Seminar
810
55
32
32
22
$200
$330
1003
Seminar
1620
110
58
64
36
$230
$390
Covered Terrace
Outdoor
-
150
-
100
-
-
-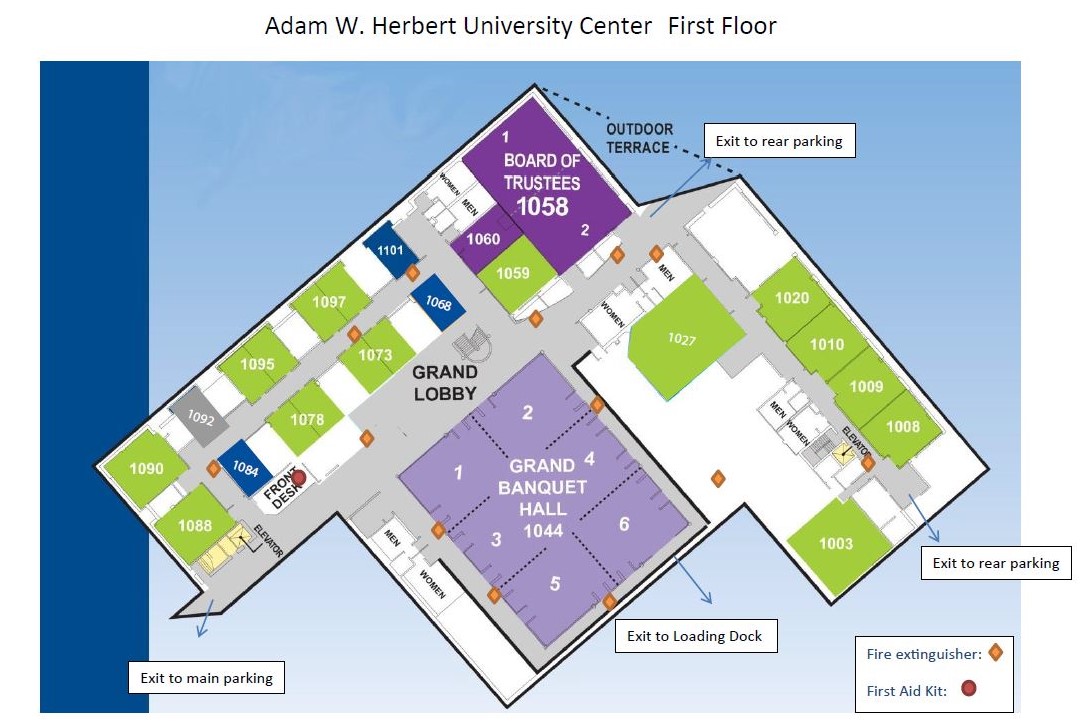 Banquets & Galas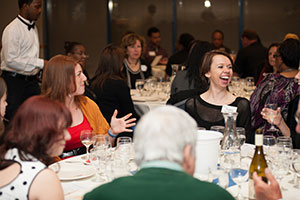 The Adam W. Herbert University Center is the perfect place to host your organization's next big event.
Our 9700 square foot banquet hall accommodates up to 464 guests in a formal banquet setting. The Board of Trustees Room can hold up to 200 guests for a VIP reception. With full catering and bar service, accent lighting and linens, these venues can be adapted to fit any theme and any budget.  
Features: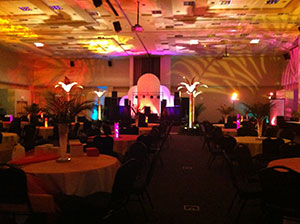 9700 square foot Grand Banquet Hall accommodating up 464 guests in a formal banquet setting
3200 square foot Board of Trustees Room accommodating up to 160 guests
Full catering and banquet services, including bar service
Extensive audiovisual services
Covered terrace adjacent to the Board of Trustees Room perfect for pre-banquet receptions
Meetings & Conferences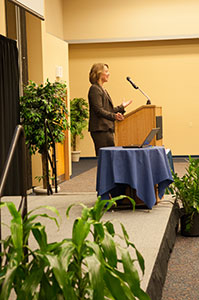 The Adam W. Herbert University Center at the University of North Florida is a full service conference center, perfect for hosting trade shows, training seminars, meetings and workshops.
Every day, the Herbert University Center plans, prepares and provides meeting space for Fortune 500 companies, government agencies, non-profit organizations and small businesses. It's the only thing we do and we do it well. When planning your next meeting or event, call us first. A point of contact event planner will be assigned to you and will assist you every step of the way. Be sure to share your goals and expectations for the event - your planner can offer helpful tips and advice to assure your vision becomes a reality.
Features:
Total conference space of 43,000 square feet
35 meeting rooms for groups of 10-700
9700 square foot Grand Banquet Hall for meeting and exhibit space
Wireless internet access
Extensive audiovisual services
Full catering and banquet services
Event Use Policy
The Herbert University Center (HUC) is available for rent to UNF and external organizations as a venue for hosting events. The following policy outlines allowable events and those strictly prohibited.
In addition to events hosted by organizations with a primary focus on education and training, the HUC permits the rental of its facilities for personal events, including but limited to:
Weddings
Bar Mitzvahs, Bat Mitzvahs
Birthday Celebrations
Retirement Celebrations
Family & Class Reunions
Bridal & Baby Showers
Memorial Services
The following events in the facilities are strictly prohibited:
events that are unlawful;
events that may be dangerous, as determined by the HUC Director;
events that could invalidate any insurance policy held by UNIVERSITY or USER;
events that may create a nuisance and/or disturb other users of the facilities, as determined by the HUC Director;
events that may violate any applicable municipal, state, or federal law, or regulation, or any rule or policy to which the UNIVERSITY is subject.
Prohibited uses include, but are not limited to a discotheque, dance club, teen or young adult club or lounge, gun show, painting class, sale or distribution of pornographic material.