UNF Preschool collaborates with campus departments to host STEM Day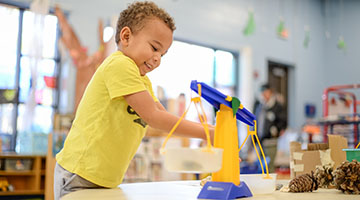 The UNF Preschool recently teamed up with the College of Education & Human Services and the College of Arts & Sciences to host "Connecting with Nature through the Eyes of a Child." The interactive, hands-on event invited parents and families to visit campus to complete fun STEM learning activities with their preschool students.
Teaming up with interdisciplinary faculty to enrich the curriculum and student experience is one of the unique benefits of the UNF Preschool.
Children and their families enjoyed the following activity stations:
Computing Station: Families visited the COEHS STEP Lab and had the opportunity to practice computer coding using Bee bots and a robot they coded to shoot baskets into a hoop.
Physics Station: The kids lifted heavy objects using pulley systems and learned about simple machines from UNF physics professor Dr. Jason Haraldsen.
Geology/Geography Station: Families enjoyed a geology and geography station featuring rock mining with gemstones from Africa donated by a local geologist.
Science Station: Families made observational drawing of leaves, used light tables with natural items to explore and enjoyed nature weaving.
Engineering Station: The families designed and created animal homes made of blocks, stones, sticks, cardboard, bamboo and other loose natural parts.
Math Station: Children explored a variety of ways to measure length, height, weight and volume with natural materials such as using a balance scale to investigate and compare the weight of shells and small stones.
The goal of the event was to create a home connection for families to learn how to support and extend STEM learning at home. The VPK students were most excited to participate in a nature scavenger hunt and were given polarized sunglasses to wear, a magnifying glass on a lanyard and a list of things to notice using their senses on the walk over the bridge to the COEHS STEP Lab. The younger preschoolers decorated nature treasure boxes and filled them with natural treasures they collected at the STEM event. The children were given the items and treasure boxes to bring home and continue learning with their families. 
Families were also encouraged to participate in the Family STEM Toolkit program that is in its third year at the Preschool. The program is a partnership with the COEHS STEP Lab that provides families a bag of STEM activities to complete at home for four consecutive weeks and share their learning experiences with other Preschool families.
Categories
Recent Articles