College of Education students participate in Holmes Scholars meeting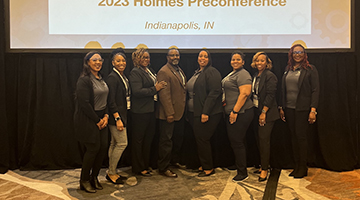 The University of North Florida's College of Education and Human Services (COEHS) is a member of the American Association of Colleges for Teacher Excellence (AACTE). In partnership with the Holmes Scholars Program, the college's doctoral students were able to participate in the 75th AACTE annual meeting and pre-conference that is dedicated to the scholarship of teaching and learning. The students were able to network, expand research perspectives, engage in tangible writing labs, and learn from a diverse group of passionate people.
The AACTE Holmes Program supports high-achieving doctoral students who self-identify as racially and ethnically diverse and are pursuing doctoral degrees in education at AACTE member institutions. UNF Scholars are selected based on their accomplishments and their commitment to equity and diversity.
Throughout the event, scholars participated in mentoring sessions focused on the literature review and the dissertation, as well as a career fair to connect with AACTE member institutions to learn about opportunities and the faculty job search process. Many of the scholars were able to participate in the roundtable and poster presentation portion of the conference.
Presentations by Holmes Scholars included Crissy Benton on "Running the Gauntlet: Barriers for Black Female Academics in Higher Education Productivity"; Shaneka Farrell on "How performing arts high school students experience involvement in a student-created, student-led organization focused on uplifting black arts and black artists"; and Jeania Jones on "Teaching black elementary students: The impact of lived experiences and teacher preparation for PWI and HBCU preservice teachers on their understanding of self-efficacy for culturally responsive teaching."
A few roundtables were also completed by Holmes Scholars Tiffany Green on "How did I get here? Perceptions of Principal Preparation Programs", and Lindsey Gallon on the "Influence of peer coaching model with teacher candidates."
Categories
Recent Articles