UNF physical therapy recruiting for Parkinson's exercise program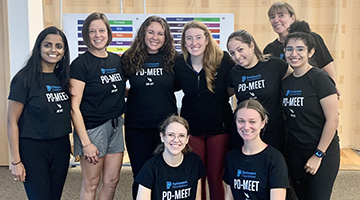 The University of North Florida's Doctor of Physical Therapy program is once again recruiting participants for a free exercise program to improve physical health for persons with Parkinson's (PwP) in the Jacksonville community. UNF's program is one of the recipients of more than $2 million in community grants awarded by the Parkinson's Foundation for Parkinson's Disease (PD) programs across the U.S. 
UNF physical therapy faculty Drs. Chitra Balasubramanian, Dawn Saracino and Jacqueline Osborne will be offering an innovative PD-MEET (Parkinson's Disease Movement Education and Exercise Therapy) program utilizing recommendations consistent with the Parkinson's Foundation. Through the support of the Parkinson's Foundation, the PD-MEET exercise program is provided free of cost for a limited number of individuals. The program will be delivered as a group exercise session (run in small groups) and includes other elements to meet the integrated health needs of persons with PD.
"We are very excited to offer the PD-MEET program once again to individuals  with Parkinson's disease in the Jacksonville area," said Dr. Chitra Balasubramanian, UNF physical therapy associate professor and program lead.  "With support from the Parkinson's foundation, we successfully served our first cohort in fall 2022 and are ready to recruit another cohort this spring."
Parkinson's Disease is the second most common progressive neurodegenerative condition, causing impairments in both motor and non-motor systems. While PD is the most common movement disorder affecting older adults, it can also be diagnosed at a younger age and is the fastest growing neurologic disorder. Evidence shows that for PwP, exercise is proven to improve motor and non-motor impairments, enhance the quality of life, slow disease progression and be neuroprotective.
If you are diagnosed with PD or know someone who is and would like to learn more about this exercise and physical therapy program, please contact the PD-MEET team at pdmeet@unf.edu.  Some additional criteria will apply for participation in the program.
The Parkinson's Foundation annually invests in community programs that make an impact in local communities and help people live better with PD by providing support for unmet health, wellness and educational needs.
Categories
Recent Articles