UNF's Nourish to Flourish program serving youth at New Town Zone community center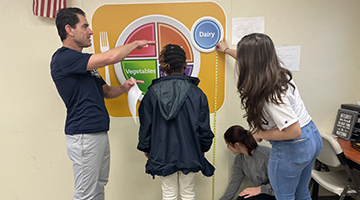 The University of North Florida Center for Nutrition and Food Security recently kicked off its Nourish to Flourish pilot program, a Food as Medicine model focused on feeding food-insecure youth, at the Edward Waters University/New Town Success Zone community center.
The five-week program focuses on providing education to local youth and their families on healthy eating and positive lifestyle changes to enhance overall wellness and healthy weight. Activities include nutrition education, cooking demonstrations and healthy food basket giveaways for families.
Under the guidance of UNF Department of Nutrition & Dietetics chair Dr. Lauri Wright, Nourish to Flourish is led by Jamie Marchio, a registered dietitian and student in UNF's doctorate in clinical nutrition program, with assistance from Lindsey Cedeno Cortez and Ashley Valle, undergraduate students. The program is generously funded by Dr. Howard Rose who is passionate about preventing childhood obesity.
Assisting local youth with positive eating habits is a transformative learning experience for students who can see their direct impacts on the health of our community. The educational program sessions continue through March 8, along with a final assessment session three months following the program conclusion in June.
Categories
Recent Articles