College of Education student receives Wolfburg Fellowship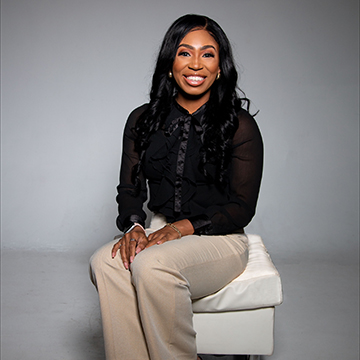 Shaneka Ferrell, a student in the University of North Florida's College of Education and Human Services, received a Wolfburg Fellowship for Social Justice in Education which she will use to support her dissertation research that grew from her involvement with UNF's former Center for Urban Education and Policy.
The Wolfburg Fellowship provides up to $7,000 for educators to deepen their knowledge around issues related to social justice, diversity, and inclusion, and to implement an aligned action research project in partnership with students. . 
Ferrell has been working as a school counselor at Douglas Anderson School for the Arts for six years and will use the funding to attend conferences for school counselors to discover best practices in the field. In addition, Ferrell plans to send two students to UNF's Bridge Summer Camp, an immersive week-long virtual summer program where students can explore how they can transform communities through visual and performing arts. The two students will additionally be mentored by Ferrell as part of a program that is implemented at the school called Black Arts.
The goal of Ferrell's research study is to understand how a student-created, student-led, Black-performing, and visual arts production exemplifies and employs culturally responsive and sustaining practices that could inform overall efforts to create and sustain greater educational equity in performing arts schools. The two students will be the executives of this program during their senior year and will help facilitate community learning exchanges with students and faculty to create arts-based artifacts that are focused on determining culturally responsive practices to implement on the school level.
In her application, Ferrell noted that her objective with the Fellowship is in line with the school's belief statement that says, in part, "We believe that the arts enrich all human endeavors bridging differences among people and teaching creative and critical thinking skills."
"As a school counselor at a performing and visual arts school, for several years I have been one of the few full-time, educators of color that students have access to," said Ferrell. "This lack of diversity and inclusion within the educator workforce has resulted in a lack of sense of belonging professionally, which also does a disservice to students. A more diverse and inclusive school climate can be created through the implementation of culturally responsive and sustaining practices."
The Wolfburgs welcome the support of like-minded individuals and organizations to support the Fund through gifts to the endowed fund or in direct support to the Fellowship. Anyone interested in supporting this work is welcome to contact Courtney Weatherby-Hunter at courtney@jaxpef.org. 
Categories
Recent Articles