UNF professor co-writes new professional learning framework for educators of gifted children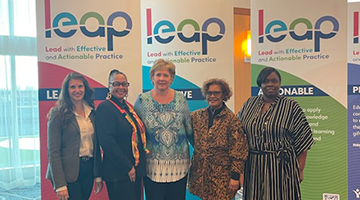 Dr. Christine Weber, professor and interim assistant chair of the Department of Teaching, Learning and Curriculum at the University of North Florida, is the co-author of the first guidebook on curriculum design for gifted and high potential learners.
The Lead with Effective and Actional Practice (LEAP) Framework was designed to help everyone, from support service personnel to researchers, better support the needs of gifted and talented students. Grounded in exploration and choice, the LEAP program allows educators to adapt it to their classroom, meet student needs and experiment without the need to follow a prescriptive program. These outcomes can help educators set reasonable professional learning expectations and strategize their own development, especially early in their career.
LEAP Education products, coming in early 2023, will allow educators to design their own professional learning experience to match their needs. Each product will contain an overview of topics and six five-hour online modules featuring social-emotional learning, curriculum development, DEIA, differentiated instruction and more. The National Association for Gifted Children writing team developed the user-friendly framework to emphasize evidence-based practices and ensure that there is solid research underlying all recommendations.
Learn more on the LEAP website or by contacting Dr. Christine Weber at cweber@unf.edu.
Categories
Recent Articles