Coggin College of Business celebrates inaugural MS in Business Analytics graduating class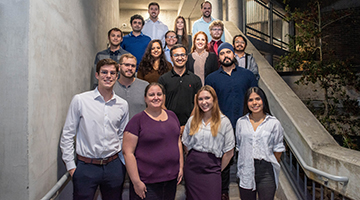 The University of North Florida Coggin College of Business celebrates the first Master of Science in Business Analytics (MSBA) graduating class. The MSBA program reflects industry demands for graduate business analytics education and is strongly supported by local and regional employers, opening numerous career and internship opportunities for all students and graduates of the program.
MSBA graduates are equipped to influence decision-making, strategy and drive better business results by transforming data into a strategic asset. Combining business and data science, students learn how to read, organize and present large data sets to make sense of the numbers, predict future outcomes and make important decisions for businesses innovation.
Along with the seven core classes taught by UNF's Coggin College of Business and School of Computing faculty, students choose three analytics-based electives that offer an opportunity to specialize in interdisciplinary topics, such as financial technology or public health. There is also an option for a graduate certificate in business analytics, comprised of five of the ten courses in the full program.
"The MSBA program has an excellent mix of data analytics and professional communication," says Lumin Pebe, graduating MSBA student. "I really value the flexibility of the program, which allowed me to take classes in the domain of healthcare as well. Thanks to the program, I have improved my data science skills and can confidently further my career in analytics."
The program offers a variety of learning opportunities outside of the classroom, such as working in projects with companies or conducting academic research. The MSBA program has partnered with local companies such as FIS, Regency Centers, Crowley, and The Energy Authority on projects including developing dashboard performance metrics and a cash flow prediction model.
"There is a great need for analysts because every business decision runs on data now," says Dr. Nathan Kunz, MSBA graduate program director.
Categories
Recent Articles