Jefferson County Literacy Alliance
oneColumn
A three year partnership with the Jefferson County R.J. Bailar Public Library and the Florida Institute of Education at the University of North Florida.
Two-Generation Approach to Improve Children's Learning Success and Achievement 
A focus on engaging families and the community in building children's literacy lays the foundation for their future success in school and beyond.
The two-generation approach takes into account the many aspects of a child's life that are intertwined with his/her family's well-being, and, as a result, is characterized by (a) multi-sector collaboration, (b) shared purposes, (c) explicit measurable outcomes, (d) theories of change that identify levels of service dosage, duration, and quality, and (e) strong learning cultures and deep commitment to continuous improvement through research, evidence, and data sharing across partners to achieve expected outcomes. Essential elements of the two-generation approach are listed under each point along the continuum. 

Overarching Goals 
In response to the readiness and reading challenges facing Jefferson County, the R.J. Bailar Public Library and the Florida Institute of Education (FIE) are coming together to implement a three-year collaborative partnership designed to: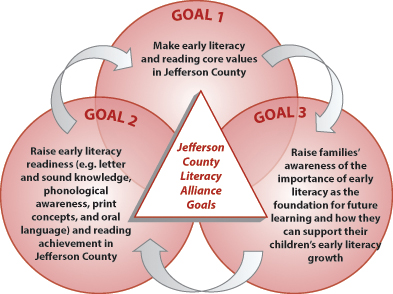 Jefferson County Literacy Alliance Goals
Goal 1: Make early literacy and reading core values in Jefferson County.
Goal 2: Raise early literacy readiness (e.g. letter and sound knowledge, phonological awareness, print concepts, and oral language) and reading achievement in Jefferson County.
Goal 3: Raise families' awareness of the importance of early literacy as the foundation for future learning and how they can support their children's early literacy growth. 
 2016-2017

 

Year I Activities
Community Awareness 
a. Planning and implementing the Jefferson County Literacy Alliance Kickoff and a strategy for keeping the community apprised of progress; 
Inside the Classroom 
b. Implementing ELLM/Plus, an evidence-based early literacy curriculum, in Alliance partner preschool and prekindergarten classrooms; 
c. Implementing FIE Infant and Toddler curriculum in Alliance partner infant and toddler classrooms; 
Classroom Support 
d. Implementing Standards-Based Educational Experiences Delivery System (SEEDS) by the Oral and Written Language (OWL) Mentors, an early literacy mentoring program, in the Alliance partner preschool and PreK classrooms;
Family Support
e. Implementing the A, B, C, simple as 1, 2, 3 Family Reading Program, developed by FIE and hosted by the R. J. Bailar Public Library, held at the Opera House; Jefferson County families would be invited to become Literacy Partners by participating in a four-week family-focused storytelling experience that includes dinner, story-telling, interactive "stretch" experiences, and take-home books – all using a dual capacity-building framework (home and school) that helps families become engaged in their children's literacy growth at home; and

f. Providing moms of new born babies with Bringing Baby Home, an easy-to-read guide to help ensure their babies thrive and learn during the first year; providing babies with their first book (for parents to read to their children).