UNF Surf Team heading to nationals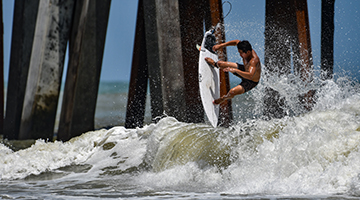 The University of North Florida's Surf Team is heading to national competition this weekend in Dana Point, California, after winning the ninth consecutive National Scholastic Surfing Association (NSSA) East Coast Championship in New Smyrna Beach, Florida.
In addition to the UNF team proudly taking first place overall in the semifinals, UNF's Fergi Kelly placed 1st in the men's division, Charlie Current in 2nd, Michael Turdo in 3rd and Carson Alvarez in 5th. In the women's division, UNF's Eden Lange placed 4th and Sarah Stotz in 5th. UNF's Chaz Guernsey on the backup team also placed 5th place for Longboard.
The NSSA is one of the few national youth sports organizations that require its participants to maintain academic standards to compete. Since 1978, the NSSA program philosophy has been that athletics and scholastics go hand in hand. More than 80 NSSA events are run nationwide that culminate with the annual National Championships which is regarded as the highest-profile youth surfing event in America.
Categories
Recent Articles