UNF graduate keeping steel pan alive in Florida
University of North Florida graduate Shaun Bennett's passion for music started when he was a child. It has served him well throughout his studies and professional career as a musician and elementary school music teacher.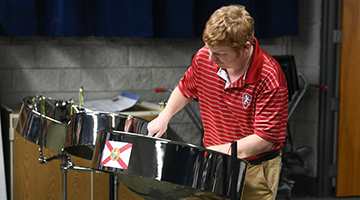 Bennett, who received a UNF master's degree in music education earlier this month, was also honored in January with the 2023 Florida Music Education Association's (FMEA) Exemplary Music Program Award for his work with the steel band at Otis A. Mason Elementary School in St. Augustine. The achievement marked a prestigious milestone for Bennett and the steel band community, as it's the first time a steel band program was honored by the FMEA in a major category.
"That was an incredible experience for me because I had never received an award from a state music organization," said Bennett. "It's a huge honor for my career."
Bennett expressed that his instrument of choice, the steel pan (commonly referred to as a steel drum), is often viewed as a novelty in some academic and professional circles.
His musical journey began at an early age in his hometown of St. Augustine, Fla., when he started taking piano lessons from a neighbor who was a concert pianist. Bennett eventually moved on to playing the saxophone before picking up the French horn, which he continued playing during his undergraduate studies at Jacksonville University and abroad at the New Zealand School of Music.
After graduating from JU with a bachelor's degree in music composition, Bennett began teaching music in 2013 at Ortega Elementary School. During his second year of teaching, he started a steel band program after a recommendation from a colleague. He immediately became the only steel band director in Northeast Florida — which he remains today.
He earned a professional development scholarship in 2017 from the Florida Elementary Music Association, which afforded him the opportunity to meet Ellie Mannette, the father of steel pan music. at the Ellie Mannette Festival of Steel. The encounter remains a highlight of Bennett's life and career as he recalls Mannette, encouraging him to keep the art form of the steel pan alive.
"When the man who invented the first steel pan out of an oil barrel tells you to keep the steel pan alive in Florida, you do it," Bennett said.
In 2019, Bennett began teaching at Otis A. Mason Elementary and now teaches at Callahan Intermediate School. He hopes to one day teach steel band at the collegiate level. For now, he enjoys introducing children to this one-of-a-kind instrument.
"In a world of technology and instant gratification, I enjoy teaching elementary students how to work hard and play live music together," he said.
Bennett's capstone project was writing a method book on the steel pan. He also performs his music on Friday nights at the Jacksonville Zoo.
Categories
Recent Articles