UNF shoreline restoration techniques prove better than industry standard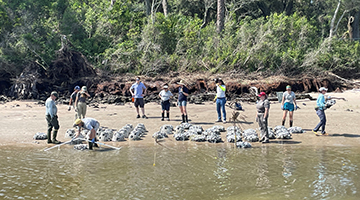 Hunter Mathews, University of North Florida biology research assistant, is the lead author of a UNF Department of Biology study recently published in the open-access journal Sustainability. The research shows that the UNF-created "Pervious Oyster Shell Habitat" (POSH) modules are more effective than the industry standard oyster balls for shoreline restoration.
This unique restoration project was created, built and studied over the last few years at UNF by Mathews and paper co-authors Dr. Kelly Smith, associate professor of biology, Mohammad Uddin and Craig Harris.
The team compared oyster and barnacle densities between the POSH module and the industry standard "oyster ball" module along two energetic shorelines in northeast Florida, the Kingsley Plantation at the Timucuan Ecological and Historic Preserve and Wright's Landing at Guana Tolomato Matanzas National Estuarine Research Reserve (GTMNERR). The results showed that oyster densities on the POSH were significantly higher than those on the Oyster Ball at both sites.
One goal for the POSH modules was to make shoreline restoration a community effort that is affordable and accessible. Volunteers from the community worked along the UNF team to build the POSH modules, assist with efforts by sorting shells donated by the Friends of GTMNERR oyster shell recycling program and deploy the structures along the shorelines.
Funding for the research came from a UNF Institute of Environmental Research and Education seed grant, while the restoration projects at Timucuan and the GTMNERR were supported by both Florida's State Wildlife Grant Program and the National Parks Foundation.
Northeast regional administrator Scott Eastman from the Florida Department of Environmental Protection was also a major part of funding and getting the project off the ground, along with Steven Kidd, chief of science and resource management at Timucuan Ecological and Historic Preserve. Additional assistance came from undergraduates Gabrielle Nelson, Devan Amos, Keegan Donlen, Victor Ritz, Erin Ogrodnik, Ethan Fuhrmeister, Avery Bliss and Danielle Perkins, who collected data in the UNF Mud Lab.
Overall, the findings suggest that the POSH is a promising option for oyster reef restoration in energetic estuarine systems, providing an environmentally friendly and effective solution for enhancing oyster habitat and shoreline stabilization that the community can be a part of.
Read more in Sustainability.
Categories
Recent Articles