UNF graduate gets free ride to Harvard Medical School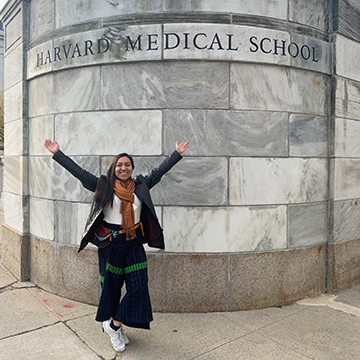 Maria Encinosa, University of North Florida Hicks Honors College alumna, recently received a nearly full ride scholarship to Harvard Medical School to pursue her dreams of becoming a doctor.
Encinosa graduated from UNF in 2021 with dual degrees in biomedical sciences and international relations & politics with minors in anthropology and Spanish. She most recently worked as a community manager for the Culture of Health Leaders. The health equity fellowship supports leaders across the country addressing the social determinants of health amongst marginalized communities.
"I only have good things to say about my time at UNF, in large part because of the Hicks Honors College experience," said Encinosa. "I am thankful for working with faculty like Dean Chamberlain who invited me to work with him, recommended me for opportunities, helped fund my travel to research conferences and provided letters of recommendation."
Encinoa was the winner of the UNF SOARS 2021 Undergraduate Researcher of the Year Award for her published research and conference presentations on "Embodied Injustices: COVID-19, Race, and Epigenetics" that combats myths of innate biological difference between racial groups and the normalization of minority sickness. She also co-designed and taught a novel course at UNF that develops students as deep learners as they pitch solutions to UN Sustainable Development Goals.
Maria credits much of her research success to Dr. Anne Pfister, associate professor of anthropology and director of the UNF Digital Humanities Institute.
"Truly great mentors are mindful of their student's academic, mental, and emotional well-being," said Encinosa. "Dr. Pfister does just that, encouraging me to pursue ambitious projects while practicing self-compassion and maintaining a full life outside of my work."
Categories
Recent Articles